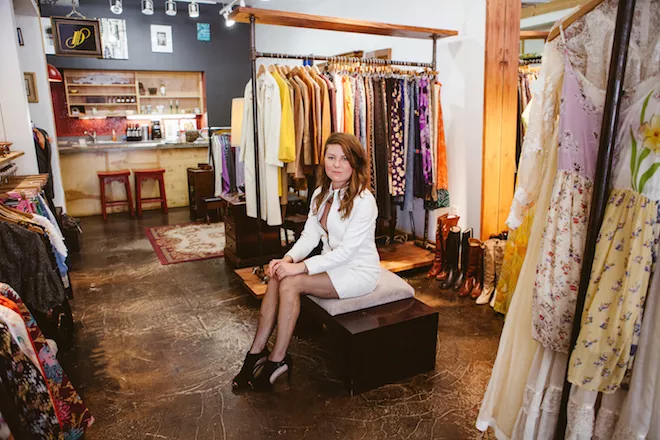 Photo by Hannah Glogower
Makenna Whiteside, owner of Postmarket Vintage
While many local shops are scrambling to get online storefronts in place to join the trendy vintage marketplaces on sites like Etsy and eBay, Orlando's newest vintage store, Postmarket Vintage, is doing things backwards. The shop's owner, Makenna Whiteside, began selling her carefully handpicked vintage clothes online for around eight years, launching her career first on eBay and maintaining it currently on Etsy (etsy.com/shop/postmarketvintage). But when the Lovely opened in Audubon Park at the beginning of this year, Postmarket Vintage found a permanent home in a stall in the hip new boutique market.
"I never worked at any vintage store, and I've never worked with somebody who was more into it than I was," Whiteside says. "I've just kind of been figuring it out as I go. And that's what I like about it: the thrill of the hunt and finding things that are really unique and hard to find."
Whiteside says she's wanted to open her own vintage shop since she was 16, but she wasn't so certain when she first moved to Orlando that this was the place to do it. But then she noticed the uptick in small businesses creating successful counterculture, and when a mutual friend connected her with the Lovely's owner, Kim Hellstrom, their aesthetics hit it off, and Postmarket was welcomed into the Lovely market.
"I was always kind of living in Orlando with one foot out the door, like should I stay or should I go," Whiteside says. "There's nothing for me here. But what kind of enticed me to stick it out was that a lot of new stuff was happening. A lot of cool new shops and people were selling more artisan goods, and I felt like it was a good opportunity for me, because a lot of places that are more established have their counterculture stuff that's going on, but here, these things are just starting to happen and I kind of wanted to be a part of that."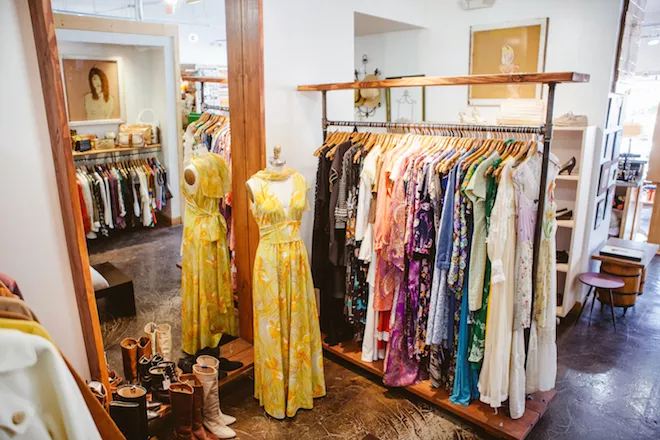 Hannah Glogower
Postmarket Vintage
Much of Postmarket Vintage is sourced from out-of-town thrifting, mostly since she began amassing her original stock in her former hometown, Nashville, but she's also addicted to Florida estate sales and thrift stores, having gotten the thrifting bug from her mom at an early age. Whiteside specializes in vintage women's clothing dating back predominantly from the '60s to the '90s, although she has select garments that are older.
"I really like the '20s and I'm starting to get into the silhouettes from the '30s and '40s," Whiteside says. "It's just a little harder to source, but what I try to focus on with my pieces is not just that it's vintage, but it also relates to current style trends. So I'm very selective. It's not just that something's from the '60s; it has to be wearable."
Between racks of sweet, stylish frocks, cute tailored pants and flow-y tops with whimsical patterns, Postmarket Vintage shapes its identity out of the clothing Whiteside is most drawn to, becoming an extension of the fashion-savvy shopkeeper.
"I shop at the other stores frequently," Whiteside says. "I really like buying locally. If I'm looking for myself, I buy from other vendors. I don't feel like I'm in competition with [the other vintage shops]. We all have our unique styles."