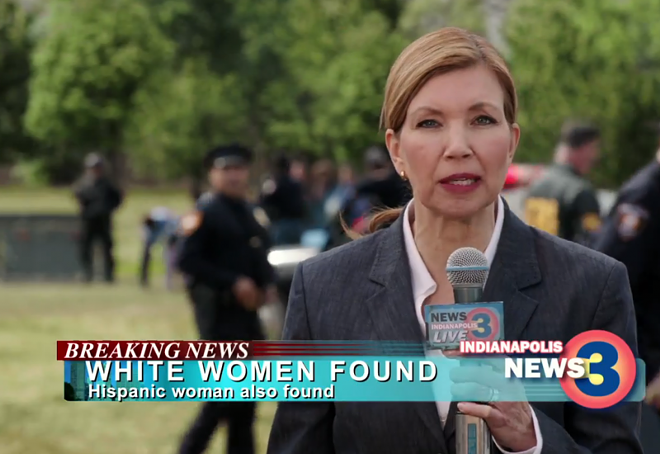 You'll have to pardon our levity for utilizing this image of Indiana to accompany an update on something as monstrous as a pro-discrimination bill being signed into law in Indiana today, but we need something to laugh at (and we're in love with the Netflix series Unbreakable Kimmy Schmidt). Not that anyone was expecting anything different to transpire in the midwest, but seeing Republican Indiana Gov. Mike Pence's smug mug as he basically allowed religious groups – CHURCH AND STATE! –
to discriminate against gays and minorities on religious principles
is particularly galling. Here he is.
Seems like a nice guy. Oh, and here he is, via his Twitter, signing the law behind closed doors. Are they closet doors? Look at all those outfits! So Chanel 1994.
None of this is funny, of course. You realize that in reaction to all of the advances the gay community has made in the courts and in the hearts and minds of citizens, many states are enacting legislation to effectively write gays back into their own closets and out of the law. It's just one of a number of
abhorrent attacks
being legislated by white Christian men in gerrymandered districts that are going for the progressive jugular. There's even a
"religious freedom" bill being tossed around in the U.S. Senate
right now (Thanks, Sen. James Inhofe!) that apes all of these other stabs at social engineering at the state level.
Gosh, it's a good thing we don't have to worry about this in Florida. Oh, wait. Enter Florida Republican State Rep. Jason Brodeur,
who just this week introduced a license to discriminate bill in the legislature
. It's good to know that Anita Bryant's rotten orange juice is still being burped up in Tallahassee. It's bad to know that we will likely see this continue. Stay tuned and contact your legislators:
here
and
here
.