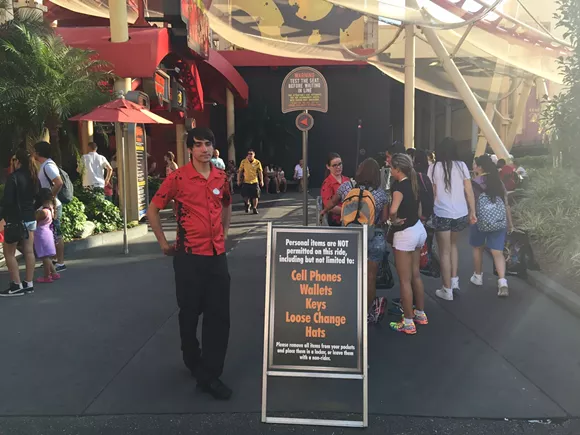 Seth Kubersky
Strict new security screenings are being tested at Universal Orlando's roller coasters.
Universal Orlando sent shockwaves through theme park social media on March 25 by unexpectedly unveiling their newest experiment in guest safety. For a brief time on Wednesday morning, metal detectors were installed at the entrance of Universal Studios Florida's Hollywood Rip Ride Rockit roller coaster. Guests were screened with both walk-through scanners and wands to ensure all loose items — especially cell phones, keys, and selfie sticks — were secured in lockers, which are provided free for a limited time period.
After a couple of hours in operation, the scanners were removed by noon. However, Rockit riders are still being directed to enter the ride through the locker area and asked to store all loose objects, even if they are in a zippered pocket. I was allowed to keep my soft wallet, despite signage to the contrary.
Similar locker policy enforcement is also in effect at the Incredible Hulk coaster in Islands of Adventure, though no metal detectors have been sighted there yet. That attraction operated normally on Wednesday, after guests were evacuated off the ride the prior day.
It's worth noting that while Universal has used metal detectors at their front gates during Halloween for many years, this is the first time they have been installed at an attraction inside an area park.
Here's a statement about the new procedures from Universal's Tom Schroder:
"We have long prevented loose items such as cell phones, key rings, cameras and selfie sticks from being brought onto our coasters. Today, we began testing metal detection as an enhanced approach to our existing safety efforts. We believe it will help us identify items we will ask our guests to secure separately prior to their ride. Our test today went very smoothly and our guests seemed to understand and support what we were doing."
When I asked if this was a one-day experiment or ongoing, he replied: "We will be doing more test work."