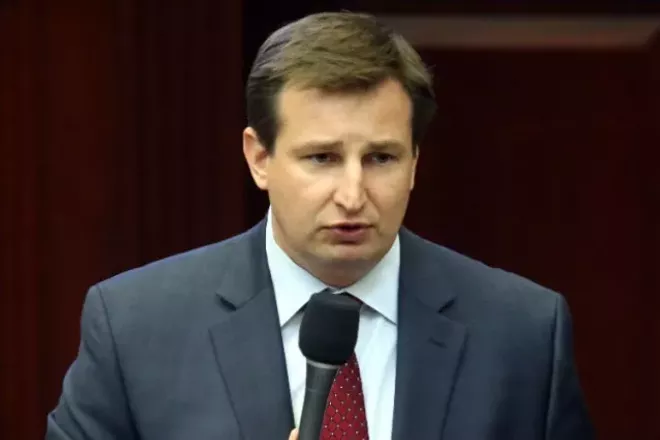 Joyless hate-mongering State Rep. Jason Brodeur, R-Sanford, is apparently seeking to outdo himself today. During a House Judiciary Committee meeting, he fell just a hair short of sending gay people to the back of the bus on the issue of private agencies refusing gay adoptions. BECAUSE PRIVATE INDUSTRIES – RE: CHURCHES – SHOULD BE IN THE BUSINESS OF ADOPTION IN THE FIRST PLACE.
We've spoken of this legislation before,
but chosen to roll our eyes, mostly because it doesn't have a Senate companion and is basically a game of chicken to impress the hate base. The bill passed its committee (again, without a Senate companion, so who's in the closet or running for office in Sanford?), but not without us getting a clear view of Brodeur's inner Patrick Bateman slipping its mouth-foot out of the closet first. Exhibit A:
Right, gays are really low on the civil rights totem pole then, Jason? We don't deserve to adopt your unwanted children? We are, in fact, people in search of special treatment on special busses that only serve bad Indiana pizza at our weddings, etc. Shut up. But what was equally alarming was to see State Rep.
Scott Plakon using similar rhetoric in a Saint Petersblog s
tory today about the bill, considering that we are relatively friendly with Plakon and he seems like such a nice guy (even though he's run a pregnancy crisis center that spreads doubt and fear among those looking to terminate unwanted pregnancies as the U.S. Constitution allows). He posted Michael W. Smith's "Friends" song on our Facebook yesterday when he thought we were quitting (April Fools!)
"Longwood Republican Scott Plakon said however that he spoke to a private agency a day after the Florida House removed the ban on gay adoption from state statute, and that they had received their first gay adoption case," website Saint Petersblog reports. 'Knowing these people, and knowing that they believe in the sanctity of marriage, of one man and one woman, they will be, I believe, one day, faced with a choice: either shut down…or get the heck out of the business, or do something that violates their sincerely held religious beliefs. I know these people. They will not be able to continue.'"
OH NO. OH NO OH NO OH NO OH NO OH NO. YOU MEAN YOU CAN'T KEEP DISCRIMINATING BASED ON "BELIEF?" Jesus, indeed.
Equality Florida public policy specialist Carlos Smith was having none of it, telling the legislators that their timing, in light of Indiana, was suspect, and that they needed to "wear this bias." Amen.
LOOK, IT'S A JOHN STEMBERGER IN THE BACKGROUND WHO DOESN'T THINK THE BILL GOES FAR ENOUGH! HE'S IN A HATE GROUP. Oh, and in case you were wondering, one of the adopted children of hero Martin Gill testified. You might recall that Gill was key to taking down
Florida's pie-faced gay adoption ban.
What the hell are we doing? It's about more than pizza and the queers, apparently. It's about bigotry.