Soon, East Orlando. Very soon.
Residents of the UCF area will soon have two new ways to indulge their cravings — whether it's a fresh South Asian lunch or a nighttime sweets fix they're after. Both services were launched by college students, for college students, though anyone's free to partake.
Fresh Dabba's delivery service
for fresh-cooked Indian lunches launched today. The amazing Indian system of tiffin delivery, a network whereby wives make and pack lunches for their husbands, which are then delivered by an army of "tiffinwallahs" (aka dabbawallahs) on bikes, is an organizational marvel. (To learn more about it – promise, it's pretty cool – check out the brief documentary below.) Not only is it a management miracle, anyone stuck eating a sandwich or nuking a Lean Cuisine would be pretty stoked to get one of these fresh multi-course meals instead.
Well,
Fresh Dabba
lunches aren't prepared by your wife or mother, and they probably won't be delivered by a guy on a bike. But in all other respects, this new business, launched by a UCF grad, is similar: Choose from the posted menu, place your order before midnight of the day before (for just one day, or as many days of the week as you like), and get a fresh hot meal delivered for free. Or, shall we say, the delivery fee is included in the price – $10 for meat, $9 for vegetarian. This week's menu:
Monday April 6th- Non-Vegetarian: Beef Pastry, Daal, Goat Korma
Vegetarian: Vegetable Pastry, Daal, Palak Paneer

Tuesday April 7th- Non-Vegetarian: Beef Samosa, Daal, Butter Chicken
Vegetarian: Vegetable Samosa, Daal, Aloo Matar

Wednesday April 8th- Non-Vegetarian: Crispy Chicken, Daal, Fish Masala
Vegetarian: Vegetable Pakora, Daal, Vegetable Biryani

Thursday April 9th- Non-Vegetarian: Beef Kababs, Daal, Lamb Curry
Vegetarian: Vegetable Patty, Daal, Mix Vegetable Curry
For now they're only delivering to the following ZIP codes: 32771, 32707, 32746, 32730, 32773, 32701, 32779, 32714, 32750, 32816 and 32708. See more details at
freshdabba.com
.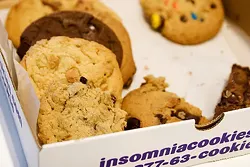 For the sweet tooth, the irresistible news is this:
Insomnia Cookies
opens near UCF this spring, delivering warm cookies, brownies, ice cream and, yes, even pints of cold milk to night owls. Work has already commenced at 12101 University Blvd., and we'll keep our ears open for the announcement of an opening day, but what you have to look forward to? Ice cream sandwiches, brownie sundaes, and hot cookies in flavors like lemon white-chocolate-chip, snickerdoodle, double chocolate chunk, and more, delivered right to your dorm room any time between noon and 3 a.m. Once they're open,
order online
or from your phone using their app – find it in the Apple App Store or on Google Play. Better work on your
dessert stomach
.