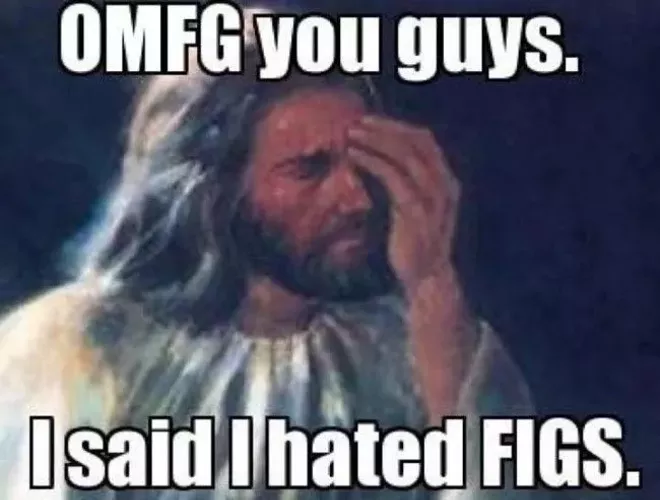 We
reported last week
on former televangelist Joshua Feuerstein's pro-RFRA stunt video. To make some point about how an Indiana pizzeria should be allowed to say they'd refuse to cater a gay wedding because they don't support gay marriage, he called a bakery at random, asked them to make a cake that said "We do not support gay marriage," and when they refused, he ... seemed to think he'd proved something?
Turns out that bakery was
Cut the Cake
, a small business that's operated in Longwood since 1985. And turns out that, however misguided Feuerstein is, it's his followers that are the real menace: Hundreds of his 1,118,080 Facebook followers flooded the bakery's phone lines with fake orders and death threats, destroyed their Yelp rating with phony one-star reviews, and ended up causing the owners to close down.
(Note: Feuerstein did ask his followers to call the bakery and ask them to "explain their hypocrisy," which is bad enough, but the rest seems to have been on their own hateful initiative.) Messages like this are still being sent to Cut the Cake: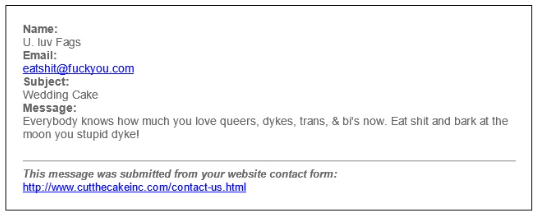 Lovely. Now that's reasoned political debate from a Christian standpoint.
Anyway, Cut the Cake is trying to hold on to the positive here: They'd like to meet the wider community, locals who may never have ordered a cake from them but who supported them through this upsetting experience. So the bakery is inviting them in for a
meet-and-greet
on Monday and Tuesday, April 13-14:
Due to the overwhelming support of the local community we would like to open our doors (on our scheduled day off) and meet our supporters and offer items for purchase. Feel free to come out and meet us. We are going to offer cupcakes, cookies, cakepops, and other signature items for sale. Thanks again for your support!
There's also a
GoFundMe for Cut the Cake
, if you want to support but can't make it down to buy a cake pop. Though it's doubtful Cut the Cake wants to cash in the way that anti-gay pizzeria did (reaping more than $842,000 so far on the back of their misguided bigotry) – they just want to make up their losses.
Cut the Cake is located at 1271 S. U.S. Highway 17-92 in Longwood.
They'll be open
between 10 a.m. and 2 p.m.