Christopher Garcia
tUnE-yArDs at the Beacham
I wasn't always on the
tUnE-yArDs
train. Judging from the polarization around them, I'm not alone. From head to toe, this is a pretty labored act, sometimes to the point of
high contrivance.
Just look at their excruciatingly capitalized name – I'm pretty sure my copy editor is
straight-up seizing right now.
But step by step, their vision has developed cogency beyond weird-pop circles, best crystallized in their exceptional latest album
Nikki Nack.


Christopher Garcia
tUnE-yArDs at the Beacham
Following through with this bright evolution, their full-band performance (April 3, the Beacham) was a big, complete splash of
color, show and nerve.
The charged, almost African polyrhythmic intelligence of their forward tribalism was delivered with the thrust of two percussionists and the fiery humanity of their melodies amplified with two backup singers. The total effect was rhythmically dazzling, constantly surprising pop music delivered with manifest core and force. Maybe the passionate reception and a deafening demand for an encore at this stop of their
first Florida tour ever
will guarantee it won't be their last.
Christopher Garcia
tUnE-yArDs at the Beacham
Also impressive was opener
Son Lux,
whose rhythmic invention and art-pop sense made them a natural pairing with tUnE-yArDs. Now clearly beyond the left-field hip-hop accents of the early
Anticon
days, Son Lux's music speaks a fully modern, integrated sonic language where rock and electronics don't feel like fusion. The result is a rich, unusual sound with a true eye on the
future of pop.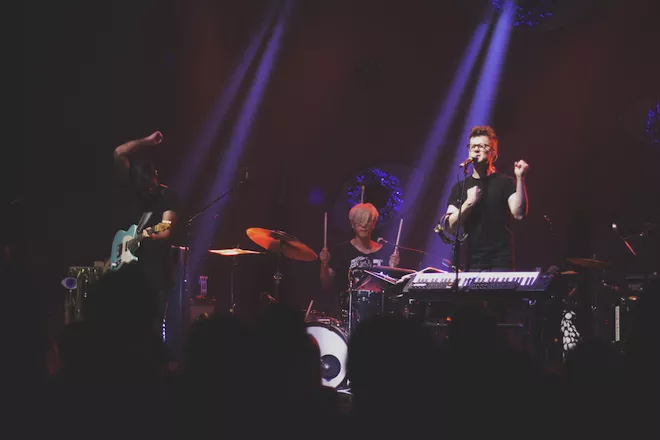 Christopher Garcia
Son Lux at the Beacham
////////////////////////////////////////////////////////////////////////////////////////////
This Little Underground
is Orlando Weekly's music column providing perspective, live reviews and news on the city's music scene.

Follow Bao on Twitter (@baolehuu)
Email Bao: baolehuu@orlandoweekly.com