via The Boathouse
Dreamboats!
All of these years, Downtown Disney (now known as Disney Springs) has been missing something. We never knew quite what it was until this week, when
Eater revealed
that the newest restaurant planned for Disney Springs,
the Boathouse
, will offer $115 steaks shaped like tomahawks and big enough to serve two people (see photo below). The menu, which wows us at every price point, also includes $21 sides of grilled asparagus, a $9 side of fries and $100 Anastasia gold caviar.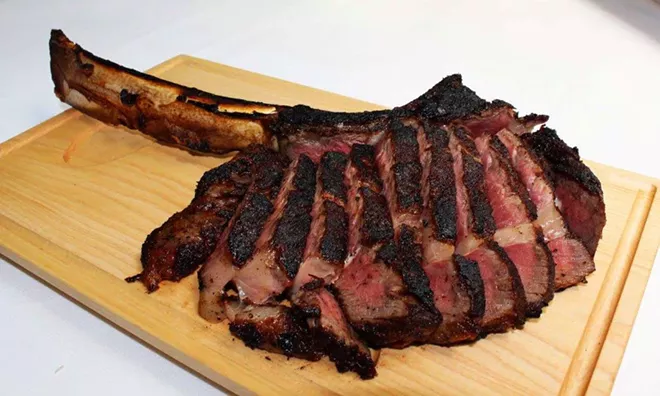 via The Boathouse
The Tomahawk long-bone rib chop
Not extravagant enough for you? There's also going to be a 40-foot wooden Italian boat called the Venezia that'll offer guests champagne toasts and chocolate-covered strawberries (no idea if that'll cost extra, or if it's included in the price of your meal).
The Boathouse isn't a celeb chef eatery, like Iron Chef Masaharu Morimoto's
Morimoto Asia,
which will also be opening at Disney Springs this year. Instead, it's a concept restaurant brought to Disney Springs by Schussler Creative, which comes up with crazy new ideas for retail shops, eateries, attractions and venues. At Disney Springs, they're also the masterminds behind the T-Rex Cafe and the Rainforest Cafe. The theme of the Boathouse, according to Schussler, will be an upscale waterfront dining experience featuring floating artwork in the form of "dream boats" from the 1930s, '40s and '50s in the canal backdrop upon which the Boathouse will be set. The restaurant will be operated by the Chicago-based
Gibsons Restaurant Grou
p, which operates
Gibsons Bar and Steakhouse
, which does not have a $115 tomahawk steak on the menu. It does, however, serve a $99 porterhouse and a $114 Australian lobster tail at its Chicago location.
This can't bode well for Disney Springs' other nautical-themed eatery,
Fulton's Crab House
, which is going to seem sooooooo Downtown Disney with its $48 New York strip and its $29 fried seafood combination.