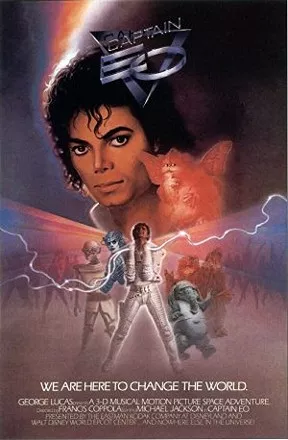 Captain EO,
the short film starring Michael Jackson and directed by Francis Ford Coppola, has finally closed after its five-year "temporary" return to the Future World theater at Epcot in 2010. Its last day showing at the theater, at least for now, was April 9. The film was reintroduced at the park as a dedication to Jackson after his untimely death a year prior. A preview of the forthcoming
Tomorrowland
feature film takes
Captain EO
's place beginning next week.
Tomorrowland
being inside Future World will surely disappoint some tourists, but for locals it'll be a great chance to spot some of the many local spots featured in the family-friendly sci-fi thriller. The Disneyland preview, which will replace their
Captain EO
as well and will happen in that park's Tomorrowland, will include props and other items from the film. (Sadly, we won't see those here in Orlando, but we will get some in-theater special effects.)

Tomorrowland
is the story of a girl chosen to help reconnect the modern world with an alternative one designed by geniuses (including Walt Disney). It's directed by Brad Bird ("The Incredibles," "Mission: Impossible — Ghost Protocol") and stars George Clooney. It hits theaters May 22, which happens to also be the last day of the preview screening at Epcot.
If you prefer to get your kicks via 1980s glamorized music videos, Disney says that the temporary'return of
Captain EO
will come back to Epcot at an unspecified future date. You can watch the trailer for
Tomorrowland
below.