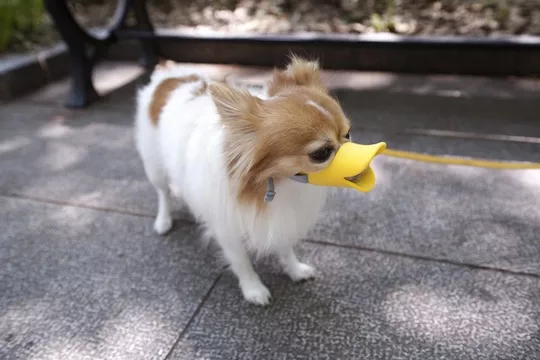 Today,
WKMG posted a story
about a local doggy daycare/boarding facility that was using nylon muzzles to keep dogs from barking while in its care. According to the story, a former employee of the daycare took photos and video of dogs wearing what some people call "party hats" – snug nylon muzzles used in veterinarian's offices to prevent dogs from biting. The employee told WKMG that she saw dogs wearing the muzzles routinely, and that some dogs wore them for long periods of time or when left alone in rooms.
We visited the
business' Facebook page
and the owner says she will no longer use muzzles on dogs in her care:
Kudos. That's great news. But it made me feel compelled to point out, for the sake of dogs everywhere, that dog owners should always check the policies of service providers before using them and ask lots of questions before leaving your dog in somebody else's care. That should go without saying.
And if a dog does need to wear a muzzle for any reason, whether in your own care or in the care of a pet professional, make sure they're using the
right kind of muzzle.
The kinds of muzzles discussed in the story above – the nylon or mesh kind that keep a dog's mouth closed – are not supposed to be used for long periods of time or when a dog is active. They prevent dogs from being able to pant (which is how dogs cool themselves), eat and drink water normally. Most manufacturers of this type of muzzle have a warning on the packaging reminding people not to use them for long periods of time and not to allow dogs to wear them unattended. Here's one such warning from Petsmart:
If you are going to use a muzzle on a dog, it can be done safely and you should choose the right kind of muzzle for the job. Short-term restraint while medicating or at the vet? A nylon muzzle will probably do the trick in a pinch. Need to muzzle your dog for walks for safety reasons? Use a basket muzzle, which allows a dog to eat, drink and pant while keeping the choppers fenced in.
Basket muzzle:
via dog-muzzles-by-breed.com
Nylon muzzle:
One other thing: Wearing a muzzle doesn't have to be a bad experience for a dog, if the muzzle is used properly and introduced the right way. Here's a
how-to from the ASPCA
to teach your dog to learn to wear a muzzle through positive association. Dogs who learn to accept muzzles properly can wear them without stressing out about it.
One of my dogs has to wear one when he visits the vet. Here's a quick video of him learning to put his nose into a basket muzzle on his own, so he doesn't freak out when it's time to put it on:
Muzzle work today. We are gonna take this nice and slow, the lady tells me.

Posted by Button on Sunday, March 15, 2015
That's your doggie PSA for the day.