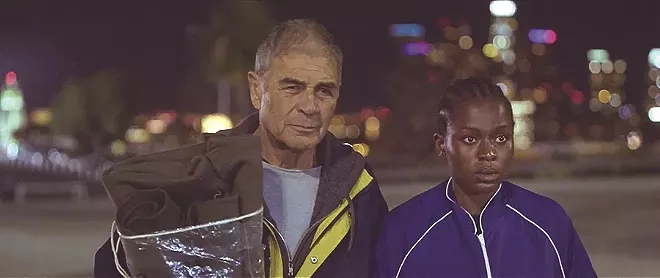 We're approaching the halfway point of the festival, and if you haven't caught a shorts program yet, shame on you. As I've said repeatedly, they are the Corpse Flowers of the festival, blooming infrequently and requiring your rapt attention lest you never see them again. Regrettably, shorts too can smell like decomposing flesh once in a while, but I'm happy to report that I've encountered a few more sweet smells than stinkers this year.
That botanical metaphor brings us to Shorts Program No. 1, which, like the other three live-action domestic groupings, is named for an Everly Brothers song, to honor Phil Everly, who died last year. "All I Have to Do is Dream" is the name of this one, and, indeed, several of the offerings in this block focus on dreams of one sort or another.
Michael Goode's
The Answers
(4 stars on our 0-5 scale) starts the program perfectly. Shot well and immediately mesmerizing, this portrait of a man reliving his life just after death balances comedy, drama and romance in a way seldom seen in short cinema.
That's a tough act to follow, but the understated, subtle and strangely effective
Stuckey, Private First Class
(3 stars), directed by Brantley Jones and getting its world premiere here, is almost up to the task. That's more than I can say for
Election Night
(2 stars), which is bound to be a crowd pleaser – thanks in part to the appearance of Peri Gilpin (Roz from
Frasier
) – but is simply too contrived, despite the twist ending that I'm embarrassed to say I didn't see coming.
Dad's Dead
and
Mulignans
(both 2 stars) are next and couldn't be more different. The first is a single-scene drama between characters addressing not just the recent passing of their father but their own mental health. Though the acting is solid and the simple structure refreshing, it ultimately becomes more of an actorly exercise than a complete film.
Mulignans
, though a comedy, suffers the same fate: tedium. But, hey, you have to admire its unique take on race.
For Ofelia
(3 stars), a dramedy set in the Philippines in the 1960s, is a weighty, almost haunting addition to the program. An odd Tagalog-language tale of a young boy whose mother dresses him like a girl, the film, directed by Christopher De Las Alas, is especially memorable once you realize it's likely inspired by true events.
The penultimate offering is
Smut
(2 stars), a quirky coming-of-age tale by director Tom Sveen. Though it has its comedic sensibilities in the right place and, like
Election Night
, will likely be a crowd pleaser, it's a tad too familiar and rough around the edges to make much of an impact.
Run Fast
(4 stars) rounds out the block in spectacular fashion and is, along with
Rabbit
(Shorts Program #3), one of the two must-see festival shorts I've seen so far. Directed by Anna Musso and starring Robert Forster in an irresistibly crusty role, it's the story of a poor Kenyan runner balancing her desire to win a Los Angeles marathon and her responsibilities back in her home country. Slow to start, the film will creep up on you and deliver an emotional punch at the finish line.
Shorts Program No. 1 has its second and final screening Tuesday, April 14, at 6:30 p.m., at Regal Winter Park Village.