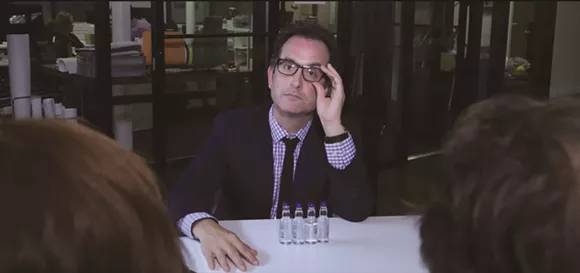 Pretend you're a fair-minded, professional journalist, as the creator and subject of
The Desk
(2 stars) imagines himself. A writer comes to you to pitch a piece after uncovering scandalous information that may or may not prove that a person was unjustly let go from his job.
"Ah, sounds like an interesting read. So who is this wronged person?" you ask.
"Me," the writer answers.
Stunned that the guy would dare approach you about a piece that is so clearly fraught with conflict of interest, undue emotional attachment and just plain motivation for revenge, you somehow muster up a "no thanks" while trying to hide your distaste for his ethical lapse. You send him on his way.
Former
New York Times
columnist Andrew Goldman is essentially that writer, bringing us a fatally flawed, if somewhat unique and entertaining, blend of documentary, essay and half-fictional narrative. During his 90-minute rant, he doesn't exactly create a bad movie, but he does commit the same crime he condemns his former employer for: bad journalism. And he too should be sent on his way.
Goldman used to be a talented
Times
columnist, specializing in provocative and often insightful interviews with celebrities. He first got in trouble – with both his employer and politically correct social-media nut jobs – when he asked Tippi Hedren a blunt question in the wake of the movie
The Girl
. He pondered aloud why Hedren didn't give in and have sex with Alfred Hitchcock to help her career. He was immediately – and falsely – branded a misogynist. Though he wasn't fired, he was given a punishment harsher than the
Times
gave a known plagiarist, a one-month forced leave.
His woes didn't end there, as the
Times
apparently scrutinized his work more closely than ever from that day forward. And when another interview (with a subject the
Times
might have been pursuing as an advertiser) took a similarly awkward turn, well, the writing was on the wall, if no longer the page. He had to go.
At least that's the story Goldman feeds us, and some of it does indeed seem true. We don't know the complete truth, though, because we shouldn't trust the source. He just doesn't pass the smell test, let alone the harsh scrutiny of the type of journalism he claims to revere.
And then there's the odd structure of the film itself, which Goldman describes as "a film about a film I failed to finish about a TV show I failed to make where the guy got fired for making a mistake just like I did." If that sounds like a disaster, it actually isn't, and the unique juxtaposition of reality and fiction gives the movie energy and somewhat balances out the dreadful reenactments. But, ultimately, the film-within-a film (which Goldman created with similarly outspoken New Zealand talk-show host Paul Henry) turns the whole project into a self-righteous romp, one that prompts even Henry to complain, "It's just narcissistic, isn't it?"
Goldman wants his film, which is getting its world premiere here, to focus on the trampling of the First Amendment and the declining standards of the
Times
. Well, the newspaper admittedly takes some punches, but it's really Goldman who comes across as an annoyingly whiny ex-employee who simply wasn't a good fit for the old "Gray Lady" of newsprint. As one
Times
employee says, the problem wasn't really Goldman's words, it was his tone. As a proponent of outspoken, brutally honest reporting, I hate to say it, but there might be some truth in that.
"I loved the job," Goldman tells us in his badly paced, self-indulgent voiceover, "and I still love the paper, even though they had sort of fucked me in this really inconceivable way." No, Andrew, they didn't fuck you. They just fired you. Get over it.
The film has its second and final showing on Tuesday, April 14, at Enzian Theater, at 9:15 p.m. Goldman will attend. The movie will be preceded by the short film
Spearhunter.