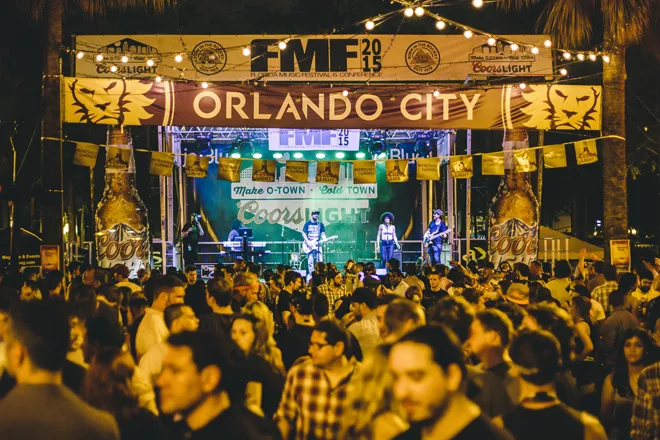 James Dechert
Florida Music Festival 2015
We could be looking at a whole new era for the
Florida Music Festival
(April 16-18) here. By
ditching big-name headliners
and showing the music for
free,
the city's longest-running music festival made a
seismic pivot
this year.
The organizers were pretty frank to me in their admittance that the headliner business had become a
headache,
citing the drain of dealing with agents and how it had shifted focus away from the discovery aspect of the festival. Of course, this wouldn't be such an issue if the big names were current heavy-hitters that generated a contagious buzz, but they weren't.
Getting truly exciting marquee names has never really been FMF's forte. So, for me as a voracious music fan, the
discovery element
has always been the best part of FMF, and it's something organizers say they want to return to. Fostering an
active culture of curious showgoers
is something I'm forever behind, and making the shows
free
certainly helps that. For live music lovers, it's a major win. The barrier to entry can't be lowered any further, so if you can't be bothered to at least check something out at zero cost then just give up now. I don't know how much this change was the result of FMF having a good, hard look in the mirror and how much was simply a response to economic reality. But either way, the result is good in principle and a return to something
more meaningful and exciting
to true music heads.
The news of this major development, however, came late. Making the announcement only about
two weeks
before the festival start isn't, I don't think, enough time for the
paradigm-breaking idea
to effectively rewire the set attitudes that people have about FMF. So the ripples of this defining sea change won't really be able to be measured until the returns of the subsequent editions. But the shift is significant and, coupled with the evaporation of practically all other contending festivals, ought to bring back some of FMF's original appeal. We'll see how this move will ultimately affect the festival's viability. But for showgoers – and, I believe, for young bands – this is the
best thing
FMF has done since it started. And more people should've taken advantage of it.
James Dechert
Madd Illz at Florida Music Festival 2015
THE FESTIVAL BEAT

One of the hottest FMF showcases I saw was the one curated by MC/impresario/scene beacon
Swamburger
(April 17, The Social). The rappers who individually shined the most were
E-Turn
and
Madd Illz.
Without the flash of her star DJ partner
SPS,
E-Turn did a set that actually exhibited how truly on-rails her flow is in the raw and why she's one of
most gifted rappers
in the underground right now. And the battle-cut Madd Illz – with his aggressive, technical style – just
outclassed everyone
who dared stand next to him.
The
best surprise discovery
this year was, ironically, from the showcase I curated myself (April 18, The Social). Without exception, all acts I've ever hand-picked to put on any public stage anywhere were based on
good firsthand experience.
New local band
Waxed,
however, was the first time I've ever broken my own rule and rolled the dice, sight unseen. But, as my general godlessness suggests, I'm not exactly the blind-faith sort.
Waxed at Florida Music Festival 2015
Waxed is the new vehicle for
Flashlights
frontman Terry Caudill and, as the gallons of glowing ink I've spilled on them can attest, I'm a big Flashlights fan. That was enough insurance for me and it paid off because their
official live debut
was very impressive. Waxed has a lot of the
fuzz and spark
of Flashlights but with a sound of more measure and flesh (five players, including electronics). I'm putting them in the
Book
now.
Eugene Snowden at Florida Music Festival 2015
In terms of
pure live electricity,
however, the blue ribbons go to both
Eugene Snowden
and the
Woolly Bushmen.
It's not a surprise or anything other than what they do in their regular course of live business, but the Bushmen just tore it up. These kids are pure rock & roll wildness and joy, and they performed some of the material from their
new LP
(
Sky Bosses
), which they'll be unveiling at their upcoming show with none other than the
Fleshtones
(May 3, Will's Pub).
The Woolly Bushmen at Florida Music Festival 2015
And then there was Eugene Snowden. He didn't just perform, he
held church.
We're accustomed to seeing him in grand fashion with the
Legendary JC's.
But in a quintet joined by additional guests, this was the biggest I've seen him go for his current
rock & roll muse.
I've seen Snowden's pop-up ensembles before, and this one was probably one of his most ad hoc and last-minute ones, but it was one of the best in show and execution. I mean, just check out this exclamation point:
The man is just a
total fucking boss.


////////////////////////////////////////////////////////////////////////////////////////////
This Little Underground
is Orlando Weekly's music column providing perspective, live reviews and news on the city's music scene.

Follow Bao on Twitter (@baolehuu)
Email Bao: baolehuu@orlandoweekly.com