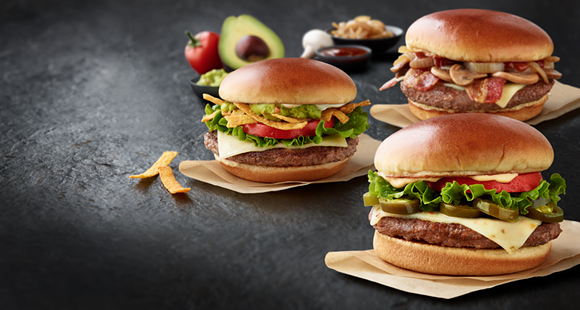 A McDonald's located on Alafaya Trail has become the first one in the area to launch a new create-your-own burger concept – and it's not just any McDonald's either. This one has a tie to Winter Park gastropub the Ravenous Pig, so the willingness to be inventive should come as no surprise. But more on that later.
Yesterday, the McDonald's at 4294 N. Alafaya Trail, near the UCF campus, held an event to showcase a new burger-ordering kiosk, where rather than the usual Quarter Pounder with cheese, Big Mac and the like, customers can choose from toppings not usually offered on the regular menu – guacamole, mushrooms, jalapeños, red onion, BBQ sauce, garlic sauce, spicy mayo, etc. The concept is called the "Create Your Taste," and it completely one-ups Burger King and its claim that you can "Have It Your Way."
Head to the McDonald's, place your order at one of the Create Your Taste touchscreen kiosks, pay, then wait for your customized burger. And you really can create anything you want. Just look at the insanity one Chicago man ordered when a Create Your Taste kiosk opened at his local McDonald's:
Now for the Ravenous Pig connect: This particular McDonald's is owned by John Petrakis, who bought his first McDonald's franchise in 1985. John Petrakis is the father of James Petrakis, one of the co-owners of Winter Park's Ravenous Pig/Cask & Larder/Swine & Sons, which specialize in unique taste creations of their own. (
According to the Orlando Sentinel,
John Petrakis' wife, Mary, actually used to help out at her sons' businesses, and could often be found working at the Ravenous Pig until her untimely death from cancer in 2012.) John is also father to Brian Petrakis, owner of Greens and Grille, which allows customers to build their own salads and sandwiches. So I guess you could say customizing your meal runs in the family.