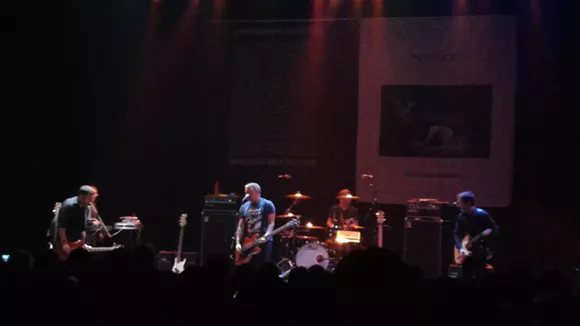 As the man whose bass lines essentially defined the sound of the post-punk generation,
Peter Hook
is as big of an indie legend as they come. For the past five years, he and his current band the
Light
have essentially functioned as a
Joy Division and New Order cover band,
and their current tour brings the watershed Joy Division oeuvre of
Unknown Pleasures
and
Closer
to the U.S. South for the first time.
The legitimate living conduits of this legendary work constitute a very small and exclusive club, and Hook's a card-carrying member. But the notion of touching such
sacred, canonical work
without the original cast is a prospect that can only beckon
hubris, folly or just huge brass balls.
The instrumental aspect isn't the issue because Hook is arguably more licensed than anyone to handle that. But someone else – not just Hook but
anyone
– stepping into singer
Ian Curtis'
shoes is an idea that seems insane, impossible. So did I mention I walked in
skeptical?
At the well-attended Orlando stop (April 19, The Plaza Live), the Light opened for themselves and primed the crowd with a nice 45-minute set of
New Order material,
which, judging from Hook's side projects, seems theoretically more suited to his sensibilities. Particularly juicy was the fact that they played some
deeper choice cuts
(like "This Time of Night") and not just the obvious, played-out transatlantic hits (I can't be the only one who wouldn't mind retiring "Blue Monday").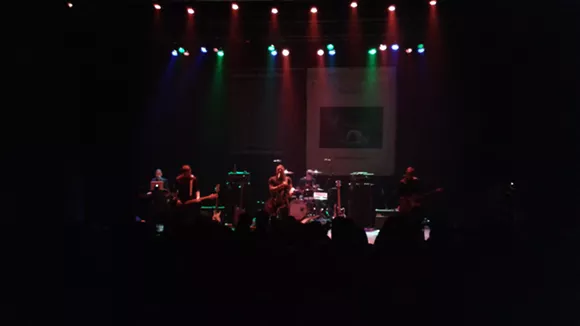 After a short intermission, they reemerged and delved into the featured Joy Division material. And with each successive song, my tall, deep well of fan reservation abated. Although a little fleshier at times than the original recordings, the music was
impressively faithful.
In historical terms, it was unquestionably great seeing the legend himself stroke those signture bass lines live. It was also pretty cool seeing his son, Jack Bates, play alongside him, also on bass of course.
Regarding the
most obvious and perilous voice issue,
Hook's register and stiff singing actually fared significantly better in approximating Ian Curtis' death croon than Bernard Sumner's lither, airier emoting. To his further credit, Hook didn't douche up the stage presentation with unnecessary modern glitz, opting instead for a muted, shadowy lighting strategy in tune with the band's original spirit. OK, so I'm sorry for doubting you, Hooky.
For many reasons, not least of which is the
irrevocable absence
of the defining and deceased frontman, the singular miracle of Joy Division is just one of those things that can never fully be revived live. But somewhere along the way, through some sort of sorcery, Peter Hook managed to reconstitute Joy Division's doomed splendor to remarkable degree.
As a kid, I got to see New Order in their prime. So as a fan who was never even close to seeing Joy Division in person, this was pretty special. Clocking in at almost three hours total, it was a facsimile of an
impossible fantasy
that was as generous as it was respectable.
////////////////////////////////////////////////////////////////////////////////////////////
This Little Underground
is Orlando Weekly's music column providing perspective, live reviews and news on the city's music scene.

Follow Bao on Twitter (@baolehuu)
Email Bao: baolehuu@orlandoweekly.com