via Fox
Louise, Gene and Tina Belcher perform "Strawesome" as Itty Bitty Ditty Committee
Speculation was rampant at the beginning of the year that the man behind
The Bob's Burger Experiment
, Cole Bowden, would actually publish a cookbook collecting his recipe tributes to the Fox animated show. Finally he's
announced
that the rumors are true: Rizzoli has signed on as publisher, though no publication date has been announced.
Bob's Burgers
creator Loren Bouchard (
ironically, a vegetarian
ironically, married to a vegetarian and dad of two vegetarian kids, he tells us) will partner with Bowden on the book, providing illustrations to accompany Bowden's recipes.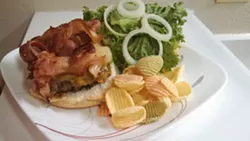 via The Bob's Burger Experiment
The Don't You Four Cheddar 'Bout Me Burger, from "Lindapendent Woman" (Season 3, Episode 4)
If you haven't had the pleasure of browsing it already, the Bob's Burger Experiment Tumblr takes the ridiculous burgers listed on the chalkboard menu at the Belchers' burger shop (the
Beets of Burden Burger
, the
Sound & the Curry Burger
, the
Don't You Four Cheddar 'Bout Me Burger
) and makes them real.
Cookbooks based on TV shows
vary widely in terms of quality (usually not so great) and actual relation to the show (often pretty shaky), but this one seems likely to excel on both counts.
Last night's episode, "Itty Bitty Ditty Committee," was the first one to air after a brief hiatus. Unfortunately, Bowden seems to be extremely busy with recipe testing for the book — he hasn't posted a recipe from the episode yet. In lieu of that, here's a clip from last night's show featuring new Itty Bitty Ditty Committee member Daryl (Aziz Ansari) singing "Maneater" – hey, at least it's tangentially about eating: