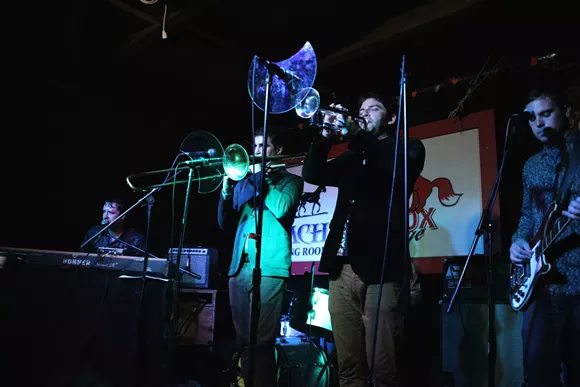 Sandra Quinlan
Monophonics at the Grand Collab (Will's Pub)
It's only been three months since San Francisco's
Monophonics
came through town in support of
Galactic,
but opening is no way to see a band like this, even if it is on a bigger stage. A unit like this needs its own spotlight, something they recently got as the first big headliner for the mixed genre
Grand Collab
series (April 26, Will's Pub). And from the shine they radiated, these guys are
stars
ready to shoot.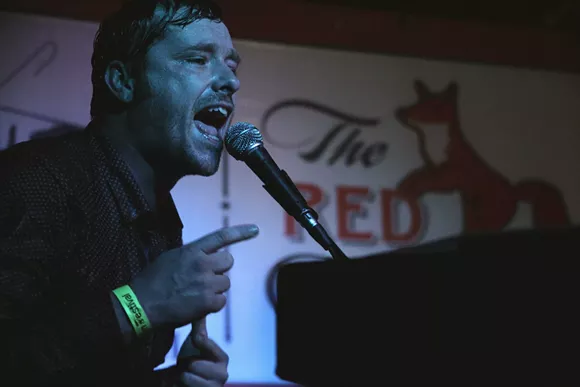 Sandra Quinlan
Monophonics at the Grand Collab (Will's Pub)
They pack the instant retro-soul hook of that
hot Daptone sound
with some added psych depth, and they roll deep live as an active, well-furnished sextet. But even among all these well-armed players,
Kelly Finnigan's burning, textured voice
is what drives this soul locomotive and drives it sweet and hard. That shit's for real and he pushes it for all it's worth. Fifteen minutes into the set and dude's shirt is already soaked through.
Sandra Quinlan
Monophonics at the Grand Collab (Will's Pub)
Monophonics are one of the more vibrant, most immediately distinctive acts in today's soul game. They're not quite a household name yet but word's getting around. It's just a matter of everyone catching up because – in talent and aesthetic – they're a
complete act
already.
Opening was local band the
Groove Orient.
As their name suggests, this quintet is very groove-oriented. If you don't buy into the
jam band
thing, these guys aren't going to be the ones who convert you. But if you do, you should take a shower already, hippie. And then dig the fact that they're good at what they do. Still, they get goofy especially on the sung songs, but they often
hit harder
than most of their ilk.
Sandra Quinlan
The Groove Orient at the Grand Collab (Will's Pub)
Next door at Lil Indies was the Grand Collab's smaller showcase (the "Lil Collab"). Of particular note was local artist
MoZaic
who, like a
punk Janelle Monáe,
cuts a striking figure. From acoustic to future soul to clean, minimal house, she showed herself across an interesting range of style. Though her talent is raw, it's very much manifest. And she showed enough here to be worth keeping an eye on.
MoZaic at the Lil Collab (Lil Indies)
////////////////////////////////////////////////////////////////////////////////////////////
This Little Underground
is Orlando Weekly's music column providing perspective, live reviews and news on the city's music scene.

Follow Bao on Twitter (@baolehuu)
Email Bao: baolehuu@orlandoweekly.com