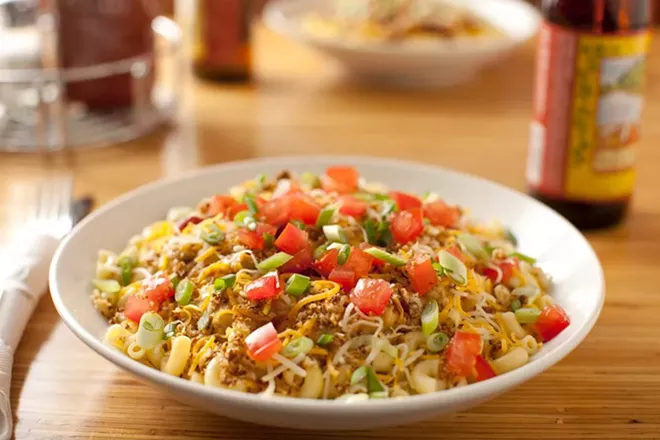 Noodles & Company
Bacon, mac & cheeseburger
Hey South Orlando, you're soon going to be the envy of many suburbanites who wish their neighborhoods were among the lucky few to get a new Noodles & Company. In addition to the chain's three new locations in Dr. Phillips, Lake Buena Vista and Fashion Square Mall, there's a fourth Noodles going in at
2855 S. Orange Ave.
That's the plaza just south of Michigan that currently houses a Publix, a Peach Valley Cafe, an Applebee's and an Office Depot, among other things. The construction site is currently fenced off, and there's a Noodles & Company banner with a "coming soon" message posted on the chainlink fence, but as of now, construction does not appear to have begun.
Noodles & Company
is a fast-casual, create-your-own restaurant – patrons can pick an entree (anything from Italian-style pastas, like penne rose, to Asian-inspired noodle dishes, like pad Thai or Bangkok curry) topped with the protein of their choice (tofu, meatballs, shrimp, steak, etc.).
South Orlandoans closer to Semoran Boulevard can expect to see a new Keke's Cafe at 4430 Curry Ford Road, near the intersection of Conway Road. Right now, the breakfast chain has a
Facebook page
for its new Conway location up, with a banner reading "coming soon." The page hasn't been updated, however, and there's no information about when we can actually expect it to open.