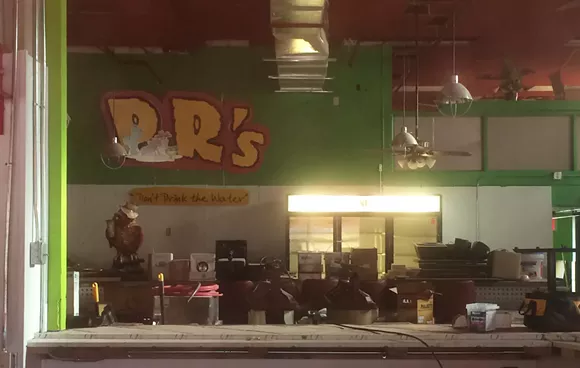 College Parkers are very patient people, clearly. Not only have they been waiting for their outpost of PR's Taco Palace to open for more than a year now, the sign teasing Armando's opening in the old Wildsides/Hangar/Harmoni space is totally tantalizing.
It looks like progress is finally being made at
PR's
, which has slowly been rehabbing the old Taste Restaurant space – a painted marquee has gone up inside the restaurant, and the front bar is clad in corrugated steel. The well-established Winter Park location of the Tex-Mex joint is often rowdy — we wonder if the College Park version might be more of a family place and less of a drinking spot. They promised in April of last year to be
open in mid-May
– maybe they meant May 2015 all along? (Actually, we just got word that they plan to be open two months from now.)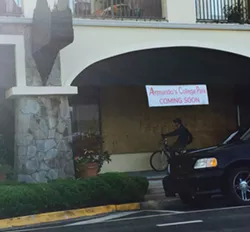 And it's been a long time coming, but in
Armando's Cucina Italiana & Pizzeria
, the showy former Harmoni Market/Wildside BBQ/Hangar Grille space on Edgewater Drive is finally getting a restaurant that might actually last. This will be a second location for Armando's, in addition to their very popular Hannibal Square restaurant. We can't wait for interior renovations to be done so we can see what they've done with the place – and get one of those
San Giovanni pizzas
topped with sautéed mushrooms, shaved mozzarella, truffle oil and fried eggs. It's slated to open at the end of August, but we'll believe when we're eating that slice.
At least in the meantime, they can bike around to all the awesome restaurants they already have – maybe work off that ice cream soda from the
Soda Fountain
or that gorgonzola gnocchi from
Adriatico
? – with the help of
Juice Orlando Bike Share
. We spotted a rank of bikes in front of Truffles & Trifles and another near the Publix on Edgewater.