Looking over this year's Fringe Free Outdoor Stage schedule -
finally online!
- and anyone who's clued in to the local music scene will immediately notice that this year's bill is notably prime. Between Beth McKee's Swamp Sistas (her impressive siblings in song include Kaleigh Baker, E-Turn and Laney Jones), a neat This Little Underground-endorsed night (mixing it up as usual with Deaf 2 the Industry, Rubox, American Party Machine, Me Chinese), and a Shak Nasti reunion as part of Jambando at Fringe, the Green Lawn's careful curation in 2015 already deserves a standing ovation. Here are the five biggest nights that really stood out to us as stellar:
Photo by Christopher Garcia
Lauren Carder and the Multiple Me
Beth McKee's Swamp Sistas La La
Local songwriter Beth McKee rounds up an impressive circle of bright Orlando female artists, pulling Kaleigh Baker momentarily away from her Fringe Fest turn as Janis Joplin to put Baker's new songs center stage for a spell, alongside great acts like Laney Jones and the Spirits, E-Turn and SPS, Lauren Carder and the Multiple Me, Kattya Graham and more. Swoon!
3 p.m. Saturday, May 16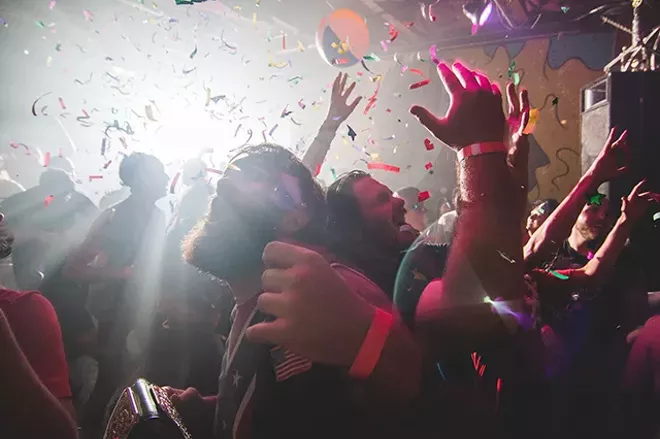 Photo by James Dechert
American Party Machine
Bao Le-Huu of Orlando Weekly Presents
In a short stint on the lawn, our music critic Bao Le-Huu brings in beat-boxing (Rubox), hip-hop (Deaf 2 the Industry), metal (American Party Machine) and psych-punk (Me Chinese) to create more mayhem than you might expect from four acts that deliver - most times over-the-top - noticeably on stage presence and style as well as sonic skill. Partyyyy!
7:30 p.m. Thursday, May 21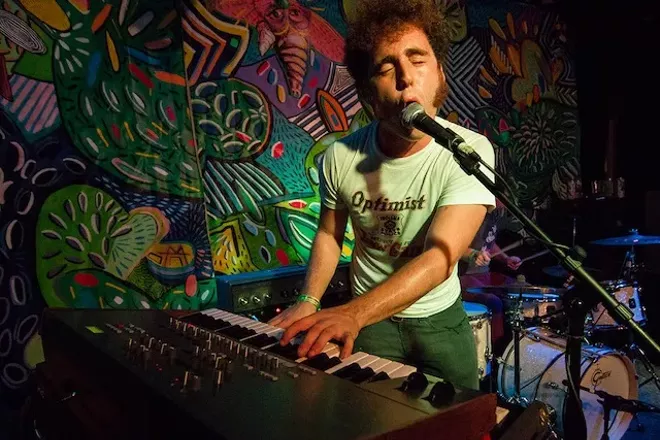 Photo by James Dechert
The Woolly Bushmen
Jambando at Fringe

Things get funky with an array of genius jam bands that know how to get down, including FunkUs, the Woolly Bushmen, Tears of a Tyrant, Drew Yardis, Dan Taylor, and the cherry on top of the '70s-inflected sundae: Shak Nasti reunites for a special set. Groooovy!
3 p.m. Saturday, May 23




Photo by James Dechert
Slim Walker and His Orchestra
Southern Fried Sunday at Fringe
With Jessica Pawli as the Free Outdoor Stage mastermind, it's unsurprising that Southern Fried Sunday makes a Fringe Fest return this year, and it's as dependably home-spiced by seasoned bands like Oak Hill Drifters, Slim Walker and His Orchestra, Prison Wine, Hannah Harber, Lauren Galant, Heckfire and much more. Cheers!
3:20 p.m. Sunday, May 24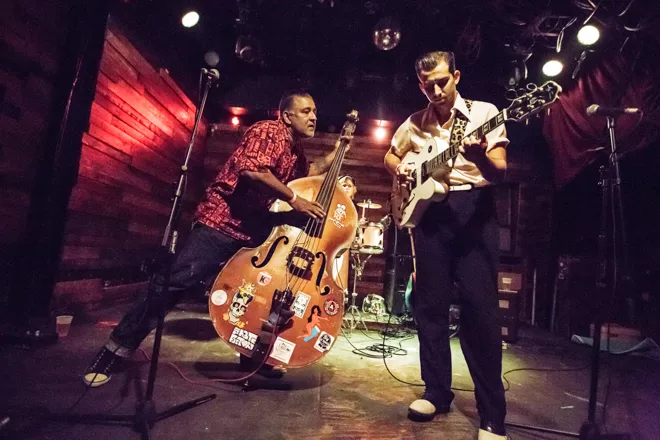 Photo by Lindsay Tompkins
The Wildtones
Retro Beach Party on the Lawn
This boss little night finds rockabilly and surf rockers colliding on the Green Lawn, featuring the Wildtones, Thee Wilt Chamberlain and Rocket 88, plus a retro bathing suit contest. Coolsville!
3:30 p.m. Monday, May 25
See the full schedule here.