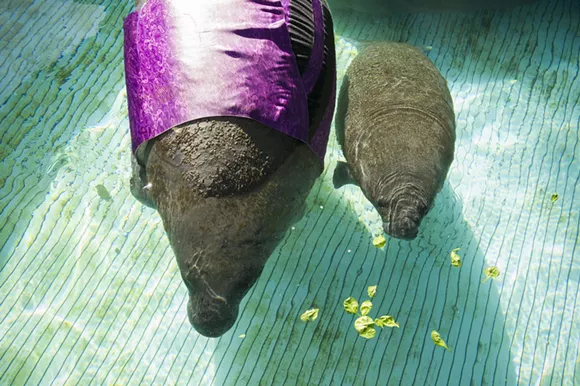 SeaWorld
rescuers were able to save a mother manatee and her calf off the coast of Satellite Beach, Florida, last Sunday, May 12.
The manatee was believed to have a collapsed lung after being struck by a watercraft. SeaWorld staff relocated the injured mother (and its still-nursing calf) back to SeaWorld, where she was then outfitted with a "manatee wetsuit," a stylish apparatus that helps the mammal float while rescuers surgically remove trapped air and fluids.
According to a press release from SeaWorld, over the next several weeks they will closely monitor the manatee's progress.
So far in 2015, SeaWorld Orlando's Animal Rescue Team has rescued 27 manatees and returned 27. The goal, as with every rescue, is to return the manatee back to its natural environment once strong enough to survive on its own. In collaboration with the government and other members of stranding networks, SeaWorld Parks & Entertainment operates one of the world's most respected programs to rescue ill and injured marine animals, with the goal to rehabilitate and return to the ocean. SeaWorld animal experts have helped more than 25,000 animals in need – ill, injured, orphaned and abandoned – for more than five decades. As part of the Manatee Rescue & Rehabilitation Partnership (MRP), SeaWorld Orlando is an acute care rehabilitation facility that provides life-saving medical care to rescued manatees.

The MRP is a cooperative group of non-profit, private, state, and federal entities who work together to monitor the health and survival of rehabilitated and released manatees. Information about manatees currently being tracked is available at www.manateerescue.org. The endangered Florida manatee is at risk from both natural and man-made causes of injury and mortality. Exposure to red tide, cold stress, and disease are all natural problems that can affect manatees. Human-caused threats include boat strikes, crushing by flood gates or locks, and entanglement in or ingestion of fishing gear.