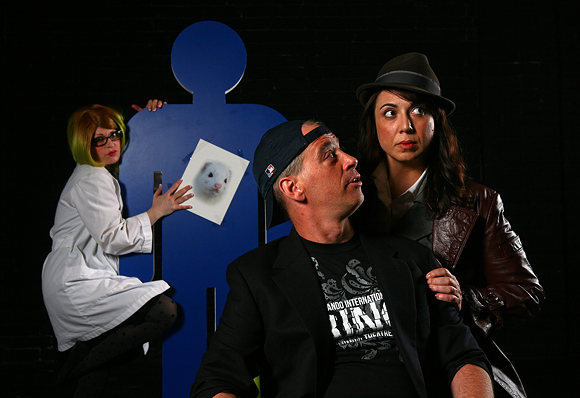 photo by Gregg Matthews
Bill Warriner and Maria Ragen (foreground) and Jenny Ornstein (background) in "The Wait List Murders."
Marking Carpenter Aunt Productions' second Fringe outing in as many years, "
The Wait List Murders
" is a hilariously sardonic follow-up to last year's surprise hit, "Escape From Baldwin Park." With as many pointed inside jokes as honest reflections on the lengths performers go to in order to have their shows staged at Fringe, writer and producer Steve Schneider, director Laurel Clark and their all-star cast satirize into absurdity the concept of the Festival itself and all the colorful characters who make it happen.
From the moment the lights go up on a Fringe hopeful performing a musical version of
Schindler's List
– the original song "A List! A List!" was written by Schneider with Tod Kimbro and Jeff Forte – audience members know not to take anything seriously from that point on. Bill Warriner, playing Fringe Festival producer Mark, explains to the performer that his concept "might be a little too edgy for a kids show" before elaborating that there are no auditions for the festival as it is non-juried and runs on the lottery system. This completely confuses the performer and literally everyone he tells it to, making the complicated and convoluted description of how the festival works into a running gag throughout the performance.
The show pulls absolutely no punches, especially as it is revealed that a homicidal maniac is trying to murder his way up the wait list into a performing slot in the Orlando Fringe. When the all the members of the burlesque troupe "Pasty White and Naked" fall victim to the killer, Warriner's character becomes convinced the culprits are the eccentric minds behind the local performance group "Ferret-Powered Robot." The mad scientist couple he confronts (complete with handlebar mustache and hipster glasses) are thoroughly tickled by the accusation.
By the end of the show, nearly everyone involved with Fringe is thoroughly lampooned and considered a suspect. Who will save the festival? According to Warriner's character, "The Canadians, like every year."
"The Wait List Murders"
Carpenter Aunt Productions - Orlando, FL
Venue: Green
Length: 60 minutes
Rating: 13 and up
Price: $10