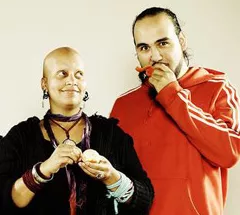 From the seemingly bottomless talent well of progressive hip-hop clan the
Solillaquists of Sound
comes yet another combination: the pairing of lead vocalist
Alexandra Love (Sarton)
and producer/MPC master
DiVinci.
It's a
brand new project
not seen before and one that, on paper, holds both appeal and intrigue because it's
inspired by jazz.
The appeal, of course, is seeing Sarton sing jazz again. She's done it before with a band and proven that it's a
beautifully natural setting
for a songbird like her. But the intrigue is how the form would manifest in a
new-tech pioneer
like DiVinci.
In only its
second public performance
(May 14, Lil Indies), this project was more interesting than I anticipated. Now having seen this "jazz-inspired" union, I should emphasize that
"inspired" is the operative word here. This is a
very contemporary, experimental take on jazz,
handling it as more of a concept than a style.
Sarton's gorgeous voice hit all the timeless notes with radiance and purity. DiVinci, the digital X-factor, did observe some classic touches by turning his digital pad into a piano. But he found subtle, tasteful ways to bend things in modern ways, like gradually phasing drum and bass into Etta James classic "At Last." With zephyrs of
beat science
and
brooding, hypnotic soul
floating through and carrying things into outer space, their sound is anything but a literal interpretation of the standards. Hear their elemental translation of "Nature Boy" as a
tribal space jam
– which sounded something like
this
– and you'll know you won't be seeing them play any fancy brunches any time soon, thank god. But hopefully, we'll be seeing more of them in general.
////////////////////////////////////////////////////////////////////////////////////////////
This Little Underground
is Orlando Weekly's music column providing perspective, live reviews and news on the city's music scene.
Follow Bao on Twitter (@baolehuu)
Email Bao: baolehuu@orlandoweekly.com