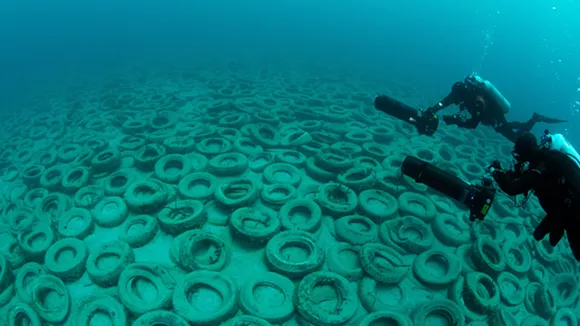 Photo via Projectbaseline.org
It comes as common knowledge that tires shouldn't be dumped into the ocean — or any trash for that matter. Unfortunately, this concept wasn't as obvious in past decades when environmentalists thought it would be a good idea to dump nearly a million tires into the ocean in the name of saving Florida's coral reefs. Now, environmental agencies and diving teams are still cleaning up this 40-year-old fiasco.
Residents of Fort Lauderdale are feeling the effects of a failed 1970's science project that called for the disposal of nearly 700,000 tires into the open ocean. According to the
Associated Press
, the Osborne Tire Reef project, initially thought to be an environmentally sound way to attract fish and provide a foundation for new corals to grow, sadly produced the opposite effect. Few new coral reefs ever actually developed after nearly a million tires were deposited into the ocean. Even worse — they actually damaged the natural coral reefs that already existed as the tires broke apart in the water. The present day results of this project are as startling as they are eerie, with the remaining tires inhabiting an area of about 1,000 feet long and 150 feet wide across the ocean floor, located just off of Hugh Taylor Birch State Park.
The Florida Department of Environmental Protection has recently allotted $1.6 million for the clean up and work required to remove these tires, a process that is said to take over 2 years to complete for the Industrial Divers Corporation hired for the job. But, there is hope on the horizon that this mass tire cleanup will finally be accomplished by 2017.
When the "coral reef tire" project began in 1972, it garnered many local and governmental supporters. This was a time before researchers had discovered how to recycle tires for energy or properly dispose of them. This allowed for over 100 boatloads of tires to be dumped into the ocean in the hopes of creating an artificial coral reef with valuable environmental benefits. However, for current residents of the area and the scuba divers taxed with the unusual task of removing 700,000 tires from the ocean floor, this project has become a bit of a nightmare.
NPR
reports that cleanup efforts initially began around 2007 when Enter Coastal America, a small federal office, made an agreement to use recovering tires as a training exercise for the military. Army Diver Jason Jakovenko says that divers were able to bring up about 1,000 tires a day during the 2007 recovery efforts, making a substantial dent in total amount of tires beneath the sea.
The
Sun Sentinel
reports that after just three days on the cleanup, divers tethered to a barge have retrieved 640 tires from the ocean floor. Once their current mission is complete, 90,000 tires will be removed. As for the rest, nearly half a million tires will be left in place, as the ones that are buried in the sand or covered with marine life remain incredibly hard and dangerous to recover.
Once retrieved, tires are sent to Port Everglades where they travel by truck to the Tampa area to be burned to generate electricity.