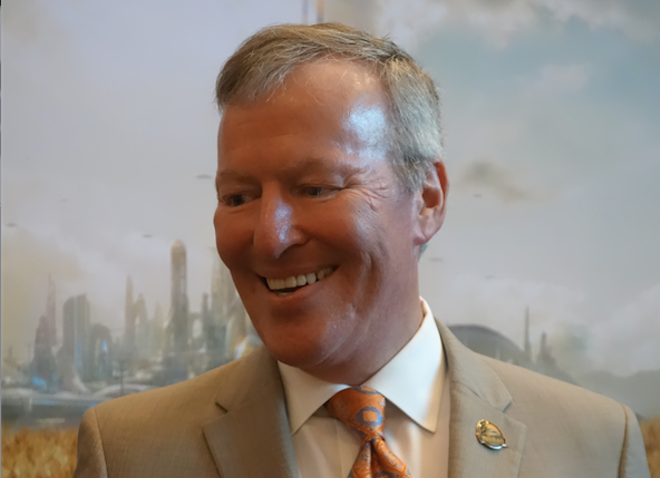 Florida filmmakers are hoping the legislature in Tallahassee will eventually pass tax incentives to boost the movie industry in the Sunshine State. But for the makers of Disney's
Tomorrowland
, that future is now, as the film was partially shot in Central Florida, giving a small boost to the local economy. "They filmed here for five days, but that really took 50 days to get to a point where you could do the filming," Orlando Mayor Buddy Dyer says. "Over 600 local residents worked on this film, and [this meant] $7 million of economic impact."
I spoke with Dyer on May 20 at a Tomorrowland advance screening for local cast and crew, at Downtown Disney's AMC Theaters. "We're a good place to make films, but what it really comes down to is whether you have a state economic-incentive program," Dyer says. "We had one that lapsed, … and it wasn't a priority during the last two-year [period], but the film industry here has come together and is really fighting hard for it in Tallahassee, [but] with the way the session ended, it just didn't happen." Dyer says that he is "extremely supportive" of tax incentives for film, adding, "Places like Georgia, Louisiana, even Canada, are taking the lion's share of the market because they have programs that allow film companies to produce their films more economically."
Disney says the total payroll for Central Florida employees on this film was just over $4.5 million.
Tomorrowland filmed at several nearby locations, including Cape Canaveral, New Smyrna Beach, Altamonte Springs and the Carousel of Progress at Walt Disney World's Magic Kingdom. "In the Orlando region, we permitted mostly in Seminole County in Altamonte Springs," Orlando Film Commission's Sheena Fowler says. "We had a really integral driving sequence that we worked with [State Road] 436 and Cranes Roost Park to make sure that we got this wonderful sequence where they could go in from like a 50,000-foot view down to the street view. So it was wonderful to work with all of the officers that had to hopscotch all of the side streets down 436 as we got that shot with the camera car and the picture cars. And then we found a home in Altamonte Springs that was very Frank Lloyd Wright-inspired that they just couldn't walk away from. So they did some filming there for several days. And then thankfully we're very close to the coast, so we partnered with our Brevard County film commission and made sure they got everything they needed on the Space Coast as well."
Florida State Representative Mike Miller (R) also attended the screening. "There's a lot of support in Tallahassee for film. Everybody realizes – it's not just in Central Florida but across the state – that this is a great industry for us," Miller says. "This is a manufacturing industry. We are manufacturing TV shows, movies, digital media content, so we are manufacturers, and manufacturers need to hire people in order to make those products." Miller says he's confident tax incentives can pass the legislature and asks the public to support the movement.
"Please reach out to your state senators and your state representatives from wherever you are here in Florida and encourage them to support film," he says. "Together we can keep this business booming and film more than just five days. I want to take those movies back from Vancouver and bring them here."