Ashley Belanger
20 Watt Tombstone at Will's Pub
The Midwest has a storied tradition of
two-piece bands,
birthing a couple of this generation's most defining ones. Although not quite the
White Stripes
or the
Black Keys,
Wisconsin's
20 Watt Tombstone
(May 19, Will's Pub) is a fairly gruesome twosome that takes a
burly, blues-greased outlaw slant
on the two-piece ideal. They sometimes lean on a little too much on rural cliché, but luckily they pack a lot of gut and grit.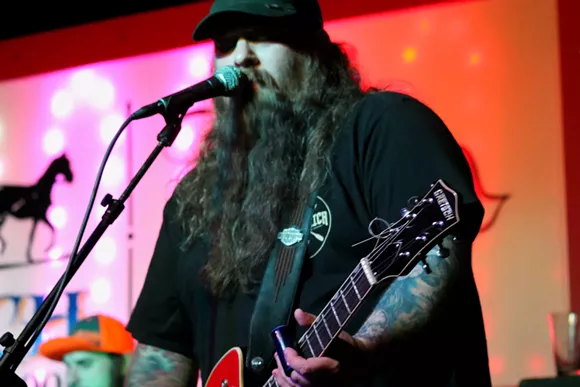 Ashley Belanger
20 Watt Tombstone at Will's Pub
The real beef is their slide-guitar action. That's some
legitimately meaty business
there and something very much worth building on. Speaking of guitars, they uncorked some Rust Belt badassness with a guitar fashioned from a
catalytic converter
for their finale.
Ashley Belanger
Johnny Knuckles & the Handsome Bastards at Will's Pub
Opening was
Johnny Knuckles and the Handsome Bastards.
Typically, the country-punker performs solo, but this expanded combo was him winged by the
Holcomb Brothers.
The result is actually a nice gestalt, his punk roughness and their gentlemanly finesse blending in
very complementary ways.
In fact, with the way each force brings key virtues that the other lacks, they should consider more combined work, perhaps adding the Holcombs' material to their repertoire or even writing new joint songs.
Ashley Belanger
Johnny Knuckles & the Handsome Bastards at Will's Pub
////////////////////////////////////////////////////////////////////////////////////////////
This Little Underground
is Orlando Weekly's music column providing perspective, live reviews and news on the city's music scene.

Follow Bao on Twitter (@baolehuu)
Email Bao: baolehuu@orlandoweekly.com