Fresh rambutans (photo by Holly V. Kapherr)
Temperatures have been in the 90s for a couple of weeks now, but if you're one of those who seeks the signs of nature to signal the seasons, here you go. The
rambutans
are out, so it's summer. No question about it.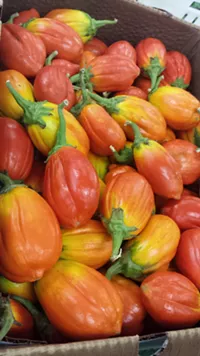 Neon eggplant (photo by Holly V. Kapherr)
Clemons Produce has them for $3.99/lb, and we're guessing they'll be popping up in some of the Mills 50 markets (along with their sister fruits, longan and lychee) in the next couple of days if they're not there already.
Yeah, they're pricey, but they're also really perishable (also: pearly-white, sweet and juicy under that frighteningly hairy exterior), so unless you're going on an exotic-Thai-fruit binge, you'll only be buying six or eight at a time.
Clemons is also stocking a unique African eggplant called "neon eggplant" – the given scientific name is "African Sweet Red Eggplant" – for $1.99/lb.
Many were still orange or yellow, so let them ripen to ruby red on the counter before sautéeing with onions, garlic and Thai red chili paste and letting them bathe in coconut milk for a while. Drooool.