William Hahne, a Boward County resident, former chemical engineer and penpal, was sentenced to one year and three months in federal prison for sending hallucinogen-laced postcards to his jail friends.
As first reported by the
Sun Sentinel
, Hahne plead guilty last Friday to two federal conspiracy charges for mailing an LSD-like dug called NBOMe to two of his buddies, Dean Aubol and Gregory Golden, in Joseph V. Conte Jail in Pompano Beach.
Apparently, once they received the drug mail, Golden and Aubol would then run a popular drug dealing business that included ripping up the postcards into small pieces and selling the hits for $10 a pop.
"It was, quite frankly, somewhat ingenious how he got the drugs into the jail," said Assistant U.S. Attorney Catherine Koontz.
The investigation began after an inmate reported seeing another prisoner experiencing a bad reaction to the drug.
Hahne's buddies were also sentenced. Aubol received two years and Golden was sentenced to one year and three months.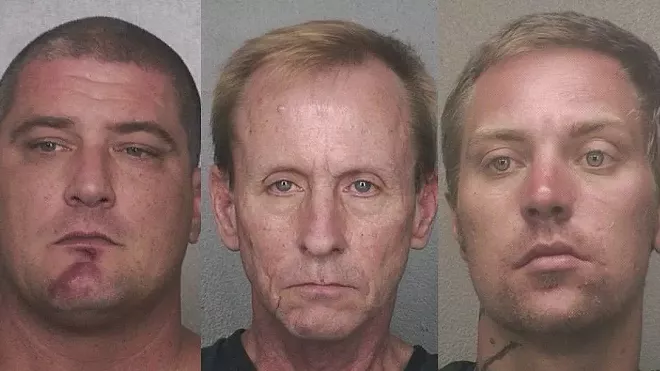 Photo via Sun Sentinel
(L-R) Golden, Hahne and Aubol