Michael Lothrop
Blueprint at the Social
One would've been enough to seal the deal, but this week I got two good looks at young local singer
Kristen Warren
in different projects. The first was at the latest edition of my favorite multi-genre serial the
Grand Collab,
where she was the easy diamond (May 31, Will's Pub). The other was at the indie-rap show headlined by
Blueprint
(June 4, The Social) as
Project Eden,
her joint with Orlando MC
Jorok.
Michael Lothrop
Project Eden at the Social
If she's already teamed up with the notable Jorok then she didn't just come from out of nowhere, but she was new to me. I may not have seen her coming up in the rearview but, now that our show paths have crossed,
that voice
is etched into me. With a warm, golden wind that channels the pristine side of
Erykah Badu,
she's the archetype of the
classic neo-soul voice
– a little jazz, a little hip-hop, all clarified butter. In fact, this nightingale is one of the purest singing voices to emerge from here in a while. And once she nailed "Summertime" at the Grand Collab, it was pretty clear that she's romancing the same rich soil as Solillaquists of Sound leading lady
Alexandra Sarton.
Not to get too carried away with the Solillaquists comparison or anything but, between Jorok's tight rap coils and Warren's supple steeze, Project Eden works a similar hard/soft dynamic as
Swamburger
and Sarton, and we know what kind of magic that's capable of.
Michael Lothrop
Supastition at the Social
As good as locals like Project Eden and
Midaz the Beast
were, the Blueprint show leveled up once North Carolina's
Supastition
seized the stage with a dense, tense style that pumps the blood and makes the veins pop a little. Even if you haven't heard
of
him, you've likely heard him on tracks alongside the notable likes of
KRS-One, Jedi Mind Tricks, Little Brother
and
Souls of Mischief.
But his combination of conviction, nerve and classic boom-bap fire deserves its own spotlight.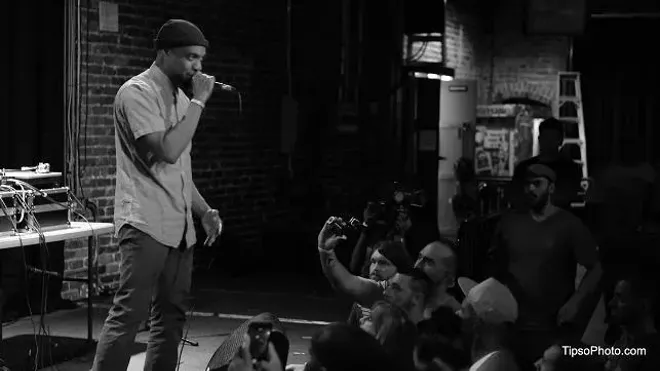 Michael Lothrop
Blueprint at the Social
Ohio headliner
Blueprint
has got to be one of the
most underrated MCs
around right now, even in his native indie-rap scene. Like any self-respecting Midwesterner, he's refreshingly free of pomp. But he's
loaded with marrow
that's delivered in a cocked, literate style. He's a well-calibrated union of edge and intelligence that owns the stage with nothing but pure legitimacy. What's more, the guy's got a real left-field streak that occasionally swerved the performance to a freaky late-night odyssey via a
keytar.




Michael Lothrop
Blueprint at the Social
////////////////////////////////////////////////////////////////////////////////////////////
This Little Underground
is Orlando Weekly's music column providing perspective, live reviews and news on the city's music scene.

Follow Bao on Twitter (@baolehuu)
Email Bao: baolehuu@orlandoweekly.com