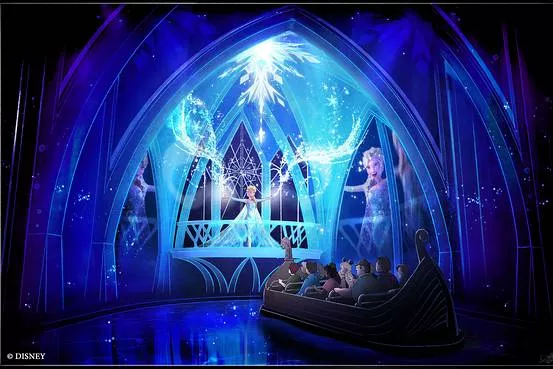 Photo via The Wall Street Journal
Many Frozen fans might soon change the question, 'Do you want to build a snowman?' to 'Do you want to go to Epcot?'
Disney's smash-hit movie
Frozen
, along with Ana, Elsa, Arendelle and more, will be transported to Epcot next year in Disney's latest ride "Frozen Ever After."
In hopes of attracting more people to the park after four years of little growth, Frozen Ever After will replace the ride Maelstrom, in Epcot's Norway pavilion sometime next year, according to
The Wall Street Journal
.
While you won't find any new songs at the new attraction, which is set at the winter festival that takes place in the summer, there will be new lyrics to existing songs, courtesy of the movie's composers Robert Lopez and Kristen Anderson Lopez.
The ride will also feature
audio-animatronic characters
, technology that was most recently seen on the new Seven Dwarfs ride in Walt Disney World. With the help of projectors, this new technology creates a more realistic animation.
Talks of creating a Frozen ride began even before the movie came out, but Disney executives picked up the speed of construction after the movie became a hit.
The ride experience is described in detail by the Wall Street Journal, who got an inside look at the attraction.

While waiting on line, which is sure to take longer than the four-minute ride, visitors will walk by Wandering Oaken's Trading Post. The trader with the thick accent will occassionaly clear steam on the windows to utter a hearty "yoo-hoo!" to people walking by. "We consider this scene one," Ms. Mangum said.

Once they board their logs, "Frozen Ever After" riders will first see goofy snowman Olaf and equally goofy reindeer Sven setting up the Winter Festival premise.

Next is a stop at Troll Valley, where Grandpappy Troll tells a gathering of children the story of how Anna and Kristof met, before the log goes up a ramp to find Olaf again, singing a song while ice skating, right next to Anna and Kristof, who are singing with their friend Sven.

Behind a set of doors is the moment any visitor is sure to be waiting for: Elsa, on a balcony, singing "Let It Go" in her ice castle.

Visitors will next ride by Marshmallow, the giant, formerly evil snowman from "Frozen" and his miniature Snowgie pals, who show up in the short "Frozen Fever," which ran in front of March's "Cinderella."

Marshmallow himself yells "Let It Go" in time with Elsa's song before the log travels through a mist cloud and reaches the final scene, which includes fireworks and a wave from Elsa, Anna, Olaf, Sven and Kristof.