In what easily could've been a scene from the film
Final Destination
, a truck filled with sharks crashed on I-95 outside of Volusia County, Florida.
Wednesday afternoon, June 10th, the truck was carrying four sandbar sharks North through heavy storms. According to FHP Sgt. Kim Montes a tire separated from the vehicle outside of Oak Hill, smashing some of the individual shark containers inside the trailer.
The 5ft long sharks were being transported to an aquarium in New York.
As first reported by
News 13
, SeaWorld employees were called to the scene and transported the sharks to a care facility until travel arrangements are made.
One of the sharks died in the crash and was reportedly ejected from the truck.
"Sharks require good water conditions and appropriate space and care during travel," aid assistant curator Jim Kinsler to News 13. "We're just grateful no one got injured and we're happy to help."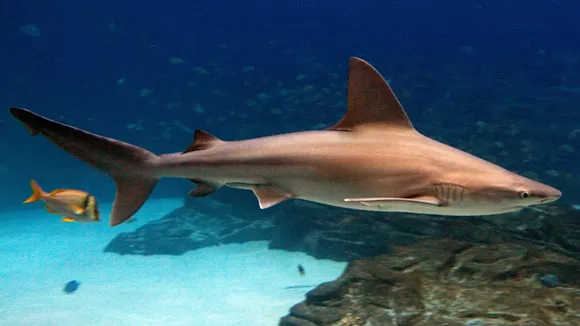 Photo via Wikipedia
A common sandbar shark, also known as a brown shark.