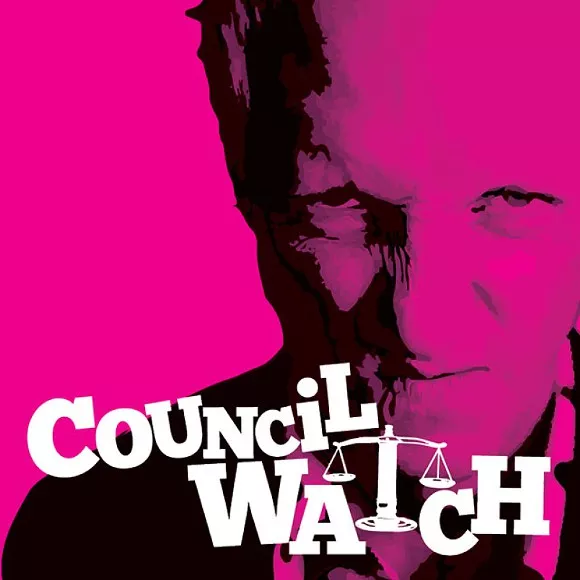 The city council agenda feels like a Double-Stuff Oreo today, mostly because last time your darlings of the dais convened, it was a morning incident, meaning that scheduled public hearings and ordinances had to be pushed back BECAUSE THE LAW. Things we'll be paying attention to in our final liveblog of this mess (this guy's last day is tomorrow, and I'm already crying, so just stop) include, but are not limited to, some consent agenda items that make our toes curl – GOAA getting a $250k extended line of credit from Wells Fargo, presumably for the Orlando International Airport improvement hub; some "condemnation sales" of land for the
I-4 Ultimate nightmare in our midst;
a second read on some weird picketing ordinance that the confuses the issue of residential and mixed use properties; the deletion of a portion of the city's "plumbing code." We're going down the drain. Join us at 2 p.m. and don't forget to refresh. You don't want to miss this (or my goodbye Happytown on Wednesday).
2:04 p.m.: Everyone silence your mobile devices!!!! We're having a Hindu invocation. "You may remain seated?" says Mayor Buddy Dyer in a confused manner. NAMASTE!

2:05 p.m.: In my nine years of covering City Council meetings, I have never heard the invocation sung before, and it's really rather amazing (I know it's not singing, because it's spiritual).

2:06 p.m.: Orange is the new invocation. Earth, fire, water, sky, etc. "Let everyone become happy and prosperous." WOW.

2:08 p.m.: WORKPLACE WELLNESS IS A BIG DEAL IN THE CITY OF ORLANDO. It started in the '80s here, before it was cool. It's hip to be square.

2:10 p.m.: City employees played tug-of-war, dodge ball and non-competitive walking. I wish life was more exciting, too.
2:13 p.m.: We're on to a proclamation for the work the Greater Orlando Builder's Association and its work on Ivey Lane
(there is blight involved).
"Ed, take a picture. They got a tiger look to them," Commissioner Sam Ings says of a squinting Dyer who has reached for some ridiculous glasses.
2:17 p.m.: Sam Ings is celebrating Brazilians. NO, NOT THOSE BRAZILIANS. The ones with with hair who have been invited here by a certain Brazilian tourism icon who happens to like theme parks. Everybody likes theme parks. This has been happening since 1955 apparently.

2:19 p.m.: His name, dear readers, is Eduardo Vasconcellos, and he is being honored along with Kontik Franstur with a "day" via proclamation. Bless.

2:20 p.m.: MAYOR'S UPDATE!!!!! Commissioner Sheehan got a pin and certificate for 15 years of service to Orlando today. A PIN!!!

2:21 p.m.: Lots of talk of blight in West Orlando redevelopment, because that's how we do.
2:22 p.m.: The new OPD headquarters will be finished in 2016, groundbreaking is on Thursday. So, that means 2018 by our math.
2:24 p.m.: PATHWAYS FOR PARRAMORE! Everything is going swimmingly. All of the kids left in Parramore are going to college.

2:26 p.m.: The Orlando Science Center is basically holding bake sales to make the term STEM mean something as far as jobs go. The city is going to invest in it, though. You, too, can walk through your intestines.

2:28 p.m.: HERE COMES THE CONSENT AGENDA!!! Which means listening to commissioners talk about things they like. Gah, I'd be sad if I weren't leaving town. This is it! Regina Hill!
2:30 p.m.: Apparently, according to the whispers of legal to Hill, the new picketing ordinance will not infringe on the rights of people to picket, as long as they don't picket "in front of someone's window." How exactly does that work? Aren't there windows everywhere? Hmm. She'll be voting yes.
2:35 p.m.: Kinda missing the musings of Daisy Lynum right now.
2:36 p.m.: Sam Ings is talking. Sam Ings is talking. Sam Ings is talking. Sam Ings is talking.
2:37 p.m.: I know I've been hard on Ings over the years, rightfully so in the presentation sense, but he isn't a bad guy.
I did once run against him for mayor, though,
and Goonies never say die.
2:41 p.m.: "And then also..."
2:43 p.m.: Jim Gray is saying nothing interesting and saying it quickly. Thanks, Jim.

2:44 p.m.: Tony Ortiz's mustache, I will miss you. But I'm RIGHT HERE when you need me.

2:45 p.m.: Robert Stuart is talking about mummies! MUMMIES! Oh, Bobby.

2:46 p.m.: Stuart is talking about a "North Orlando quiet zone" for SunRail, which is being established right now. As are other quiet zones.

2:47 p.m.: DOG WALKER WATCH TRAINING is happening. It's the new neighborhood watch. You heard it here first.
2:50 p.m.: PATTY SHEEHAN IS TALKING ABOUT
THE PINK BUNNY SITUATION.
THAT IS ALL. Well, not really all. Sheehan just said "I just hope this fellow doesn't go against Santa Claus and the Tooth Fairy next." Boom.
2:51 p.m.: The backyard chicken pilot program is being extended, because Green Acres is the place to be.
2:53 p.m.: There is going to be a full-time officer for the Blankner K-8, because 8th graders can be a little ridiculous sometimes (not making light of that, but not really fond of the K-8 situation).
2:59 p.m.: Mayor Pro Tem elections!!! Stuart and Ings nominate Ortiz as Mayor Pro Tem 1. Ings turns around and nominates Jim Gray for Pro Tem 2, seconded by Stuart. Yawn. "We'll have your sashes," Dyer says.
3:01 p.m.: MetroPlan Orlando will get a new member, bringing its membership to 20.
GAS TAXES!!!

3:07 p.m.: A whole lotta nothing going on. Some Lake Nona stuff, but Lake Nona is Teflon.

3:10 p.m.: "You can't tie your horse up to the hitching post," Dyer just said. He's referring to the city's attempt to clean up its ordinances. A lot of things could slip through in here, but nobody would know. That's sort of the same argument they're using on the picketing thing. Also, Sheehan can't stop giggling today!!!

3:11 p.m.: There are going to be a lot of ordinance re-reads now. I may die.

3:15 p.m.: An issue exists with camping grounds. But doesn't really. So it's just being put aside indefinitely. As is the plumbing code. It feels like everything has gone into black and white.

3:17 p.m.: How often do you look at the beds of your fingernails? Not as often as me right now, I guess.

3:18 p.m.: HERE COMES THE PICKETING ORDINANCE. There are several people who want to speak on this one, each given five minute. DOUG HEAD IS 'IN THE ROOM.'

3:20 p.m.: Apparently labor organizations were surprised by the appearance of the ordinance today, says the current commenter. Basically, the SEIU and other labor unions feel like this is a silent attack. "The wording on this ordinance is not clear at all," the speaker says.

3:25 p.m.: "You know what, Mayanne [Downs], why don't we defer this?" Dyer says. "Let's cook this a little bit more." Ortiz agrees.

3:26 p.m.: Doug Head congratulates the mayor on deferring. "I think it's important to clear it up," he says. Another labor guy says there was a little "snafu" with some of the labor attorneys being out of town, so he appreciates it. Another woman wants the public to be involved in it, not just union leaders.

3:27 p.m.: Lawanna Gelzer also has to say her piece. IN SHORT TIME!

3:30 p.m.: Motion to defer is approved. But Sheehan has something to say about all of this. She's been vandalized before, she takes her personal safety very personally. "You people can say whatever you want to me here... but I won't have it at my home," she says. Commissioner Hill is making it clear that she does keep her meetings open, but she likes it when people make appointments so she can be prepared. "Send me an email! That's all I request." Regina Hill has red hair now, BTW. The item will be deferred until July 13.

3:33 p.m.: All that's left are ordinance first-reads that annex minor lots in the middle of nowhere, and nobody is present to oppose them, so I'm going to sign off. For real, this time. Thanks to everyone who has ever followed this indulgence, whether in print or, later, online. Keep paying attention; I know I will. It's been a great ride. I'll be carrying some of my wandering mind's eye over to my next gig, still in town. Don't be a stranger. I'll keep being strange. Over. And. Out.
Here's what the picketing ordinance says NOW:
AN ORDINANCE OF THE CITY OF ORLANDO, FLORIDA, RELATING TO PICKETING; AMENDING SECTION 43.42, OF THE CODE OF THE CITY OF ORLANDO, FLORIDA; PROVIDING FOR SEVERABILITY, CODIFICATION, CORRECTION OF SCRIVENER'S ERRORS, AND AN EFFECTIVE DATE.
BE IT ORDAINED BY THE CITY COUNCIL OF THE CITY OF ORLANDO, FLORIDA:
WHEREAS, the City of Orlando and the United States Supreme Court, as noted in Carey v. Brown, 447 U.S. 455 (1980), agree that the government's interest in "protecting the well-being, tranquility, and privacy of the home is certainly of the highest order in a free and civilized society"; and
WHEREAS, targeted and focused picketing can disrupt the quiet enjoyment of the home by subjecting a captive audience to offensive and intrusive speech, leaving a person with no ready means to avoid the unwanted speech; and
WHEREAS, the City Council of the City of Orlando, Florida wishes to protect the well- being, tranquility and privacy of people within the home.
SECTION ONE: SECTION 43.42, AMENDED. Section 43.42, Code of the City of Orlando, Florida, is hereby amended as follows:
Sec. 43.42. Picketing; Definitions; Where Prohibited; Exceptions.
(1)
For the purposes of this section, the following definitions shall apply:
(a) Picket: The word "picket" shall mean to position oneself, or to assemble or gather, as a means of protest, or as a means of presenting or advocating a cause or grievance.
(b) Peaceful Picketing: The term "peaceful picketing" shall mean any tranquil and peaceful means of presenting a cause to the public which is devoid of noise or tumult or quarrelsome demeanor, and which does not violate or disturb the public peace or private property rights.
(c) Residencetial or Dwelling Unit: The term "residencetial or dwelling unit" shall mean any individual's home within a single or multifamily residence, to include units within an apartment or condominium complex. The term shall not include those establishments serving or catering to the transient public such as motels, hotels, or motor hotels.
It shall beis unlawful for any person or persons to picket before or about anythe residencetial or dwelling unit of any person.
ORDINANCE NO. 2015-15

This section shall not apply to a person peacefully picketing upon property which he owns or which he is lessee, nor does it prohibit the peaceful picketing of a place of employment involved in a labor dispute, including a residential or dwelling unit used as a place of business, or peaceful picketing within a place commonly used for public assembly.
SECTION TWO: SEVERABILITY. If any provision of this ordinance or its application to any person or circumstance is held invalid, the invalidity does not affect other provisions or applications of this ordinance which can be given effect without the invalid provision or application, and to this end the provisions of this ordinance are severable.
SECTION THREE: CODIFICATION. The City Clerk and the City Attorney shall cause the Code of the City of Orlando, Florida, to be amended as provided by this ordinance and may renumber, re-letter, and rearrange the codified parts of this ordinance if necessary to facilitate the finding of the law.
SECTION FOUR: SCRIVENER'S ERROR. The City Attorney may correct scrivener's errors found in this ordinance by filing a corrected copy of this ordinance with the City Clerk.
SECTION FIVE. EFFECTIVE DATE. This ordinance takes effect immediately upon final passage.