When it comes to rock & roll icons, there is none greater than the
Rolling Stones.
They're testament to not only the reach of the art form but to its immortality. Their longevity is legendary, superhuman, in defiance of all known natural law. Consider the few bona fide stadium bands still going and you realize that the Stones stand alone, above all, on a stratum of their own.
U2?
Puh-leeze. Talk to me in another couple decades if they're still going this strong. Under most conceivable metrics, the Stones' early claim as the "World's Greatest Rock & Roll Band" didn't end up being hubris after all. They've achieved altitudes that aren't just unmatchable, they don't even exist anymore. They may be old men by now, but this locomotive, this cultural colossus, rolls on with no terminus in sight. At this point, it's clearly not seeing a band at their zenith. It's almost not even about seeing the band as it is witnessing
their phenomenon.


I grew up listening to the Stones. Although I've thoroughly adopted them, they were
my parents' music.
And, by now, I probably should've had kids that have already inherited them. The math on that musical shelf life is already staggering. But the fact that it also applies to their relevancy as a
touring stage force
would be inconceivable if it wasn't so actual. Their recent Orlando date would finally be my first time seeing them live, and it's at the
Citrus Bowl
(June 12). Consider that for a moment. That should sound as ridiculous as me saying I'm going to see the
Dave Clark Five in a motherfucking stadium
this weekend. But it's not at all, and that's a tremendous feat.
The Rolling Stones at the Citrus Bowl
Now if there was any doubt that the fever still lives, this sight at 1:00 in the afternoon –
five hours
before gates opened – puts that to bed: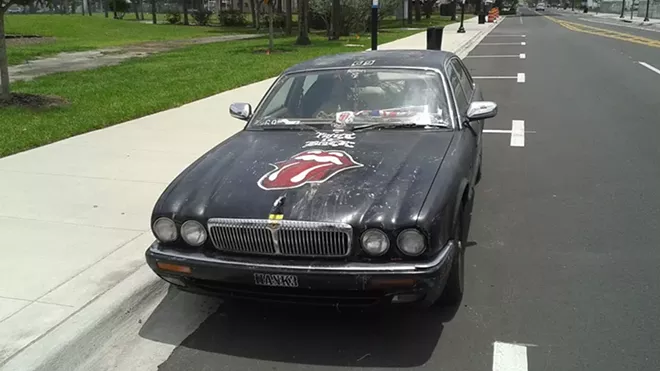 The Rolling Stones at the Citrus Bowl
Later, once the pre-show tailgating was really in swing, this street scene would blow up into a
full-on fete
– not just the cattle drive action at other big-draw events either but a block party with food trucks, street vendors and blasting music. This is what happens at mega events, I guess.
Inside, it was a
sellout.
I've been to the Citrus Bowl for events of ranging success, from
Orlando Calling
to the
World Cup,
and never have I seen it this stuffed nor possibly as universal. The social width and generational depth represented was remarkable, but the intensity and democracy of the
buzz
that permeated everyone perhaps even more so.
In terms of stage show, it was a thoroughly professional affair. Apart from perhaps the appearance of a
UCF chamber choir
on "You Can't Always Get What You Want," there wasn't anything especially intimate or unexpected. The display was grand (huge hi-def video screens, fireworks) and the production savvy enough to minimize the warts.
But, though they're leather bags now with ill-advised fashion choices (sneakers that would appeal to toddler girls, fabrics that would appeal to Golden Girls), they bring it live, especially
Mick Jagger,
whose famous physical regimen has got to involve some sort of
voodoo.
The guy is svelte, elastic and still moves like a
sex leopard.
Keith Richards was wobbly but Ronnie Wood was there to carry that end, and the rest of the band was a solid engine room. But, really, their legacy and presence were such that a lot of those gaps were pretty negligible. The music, no surprise, still retains a lot of its
original balls,
enough to carry the very un-rock & roll sight of geezers. Then again, it set the global bar on musical virility.
In terms of
crowd electricity,
this was one of those on-your-feet-from-start-to-end shows. At the back of the field, behind the seats, it was a beautiful dance party that observed no divide – not age, not class, not coolness. But my moment happened back at my seat.
Fifteen minutes into the set, after much teasing, the legendary frontman finally makes it all the way out to the head of the long catwalk where I'm situated front row. It's on one of my heart jams, "Tumbling Dice," and my journalistic distance suddenly buckles under the realization that this is
Mick fucking Jagger
eight goddamned feet from me. It's blinding while he's there. Once he ebbs back to the stage, reason returns. And then a light drizzle begins to fall like some sort of summer stardust, lasting just a few seconds, just enough to put a bracing ring to the afterglow. Yes, I felt
It.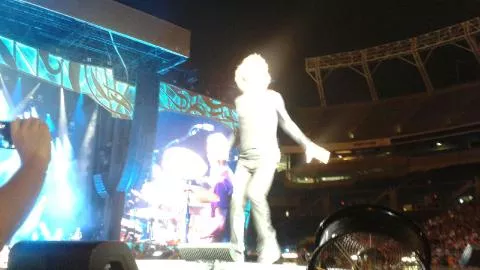 The Rolling Stones at the Citrus Bowl
////////////////////////////////////////////////////////////////////////////////////////////
This Little Underground
is Orlando Weekly's music column providing perspective, live reviews and news on the city's music scene.

Follow Bao on Twitter (@baolehuu)
Email Bao: baolehuu@orlandoweekly.com