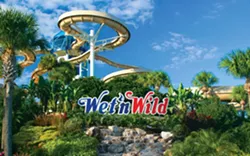 Image via Universal Orlando
Get your final slide-burn at Wet 'n Wild before it closes forever at the end of 2016.
Sad (but not unexpected) news today for fans of burning-hot cement and barely themed water slides: Universal Orlando has finally made it official and announced that Wet 'n Wild, the nearly 40-year-old International Drive attraction that basically invented the modern water park, will see its last guests ever Dec. 31, 2016.
Universal, which purchased Wet 'n Wild and the land around it several years ago, is opening a new, elaborately themed "water theme park" called
Volcano Bay
next to the Cabana Bay hotel in 2017. It makes sense that they wouldn't want to compete with themselves by having two similar parks so close to each other, and Wet 'n Wild has long had a reputation for marginal customer service.
What is unknown is whether any slides or attractions will migrate from Wet 'n Wild to Volcano Bay; both parks primarily feature
Proslide
products, some of which could be disassembled and relocated, assuming they could be integrated into the new park's tropical tiki theme. We also don't have a confirmed opening date for Volcano Bay, so there's no way of knowing how long Universal might be without an operating water park during the transition, nor how many current Wet 'n Wild employees might transfer to the new park.