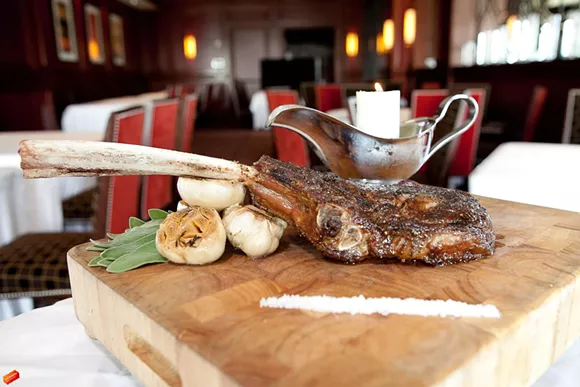 Photo courtesy of Waldorf Astoria Bonnet Creek
So your dad's a carnivore, huh? In that case, a really good, potentially really expensive steak is the best way to say, "Dad, thanks for providing the second zygote that led to my conception," or whatever other one-line phrase you can't bear to write in a card or say out loud that best describes your parental relationship.
Hopefully you'll still have enough of your paycheck left for a decent heifer haunch by the time Sunday rolls around. Here's the lowdown on where to score quality cow, whether you're going to cook it at home (pro tip: Forgo the grill and, instead,
crust with peppercorns and sear in butter
) or head out for a white-tablecloth dinner on Father's Day.
WHERE TO BUY:
The Meat House
- Hand-cut to order slabs of steak are at the ready at this Winter Park meat market. USDA Prime and Choice steaks settle nicely next to Kobe and Wagyu cuts as well.
Fresh Market
- Once you get past the disturbing pig sculpture molded from ground breakfast sausage, the USDA Prime cuts are on order, from New York strip to skirt and flank. Bonus: Some cuts come pre-marinated.
Petty's Meats
- Marbling = fat = flavor, and all of the steaks at Petty's are nicely streaked. The butchers at Petty's will even put together a Father's Day custom gift basket with barbecue sauce, a steak and a six-pack.
WHERE TO EAT:
Fogo de Chão
- What else says "I'm glad you're my dad" as well as unlimited meat? Pretty sure you'll hit a home run with this one. Need to save a little scratch? Let Dad indulge, while you just order the salad bar. The price tag goes down significantly and, don't worry, you won't go hungry.
Christner's Prime Steak & Lobster
- There's a reason why this place has stood the test of time, even through the Great Recession when expense accounts shrunk to next-to-nothing. If you put on a tie and go with a group, you can reserve one of the private rooms that seat from eight to 40. The red meat is damn good here, too.
Bull & Bear Steakhouse
- If he deserves only the best, there's certainly something to be said for a $50 slab of steak. Order the show-stopping Tomahawk rib-eye (shown above; 38 ounces serves two people for $145) and you can probably ask for pretty much anything afterward with a guaranteed affirmative answer.
Also note, Father's Day is significantly less crowded at restaurants than Mother's Day (the No. 1 busiest holiday for eateries), so chances are good you can still
make a res
with no problem.