photo courtesy Taverna Opa
Taverna Opa's Greek salad.
Sometimes we crave ice cream. Sometimes we crave pizza. Sometimes we crave five-course, wine-paired tasting menus. At
Taverna Opa
this summer, their wine dinner series returns on Thursday, June 25 (with following dinners on July 30 and August 27). This year's theme:
Air, Land and Sea.
The dinner this week follows the "Air" theme with a menu featuring quail (a primarily ground-dwelling bird, but no matter) and chicken (in the "airline" style? Hmm). Those courses are flanked by heirloom tomato salad, a cauliflower dish with hummus, and Greek yogurt ice cream with honey and pistachios. All courses are paired with Benziger wine (btw, the Benziger winery has a
pretty interesting backstory
), except the dessert, which is paired with a Luc Belaire champagne. (Menu below.)
The five-course evening will set you back $45 each, which comes out to $9 a course (a relative steal in a town where $13 burgers are becoming the norm).
Make reservations by e-mailing eatgreek@opaorlando.com, then show up by 6:45 for plenty of eating, drinking, belly dancing, table dancing and Dionysus-worshipping.
1:
Tomatosalata
– Heirloom tomatoes, watercress, imported feta cheese, olive oil and lemon juice
paired with Benziger sauvignon blanc
2:
Kounoupidi
– Cauliflower with hummus crust
paired with Benziger chardonnay
3:
Ortikia
– Quail with oregano and lemon
paired with Benziger cabernet sauvignon
4:
Kotopoula
– Airline chicken breast with avgolemono sauce, artichoke and spinach
paired with Benziger merlot
5:
Yiaourti Pagoto
– Greek Yogurt ice cream with honey and pistachios
paired with Luc Belaire rosé Champagne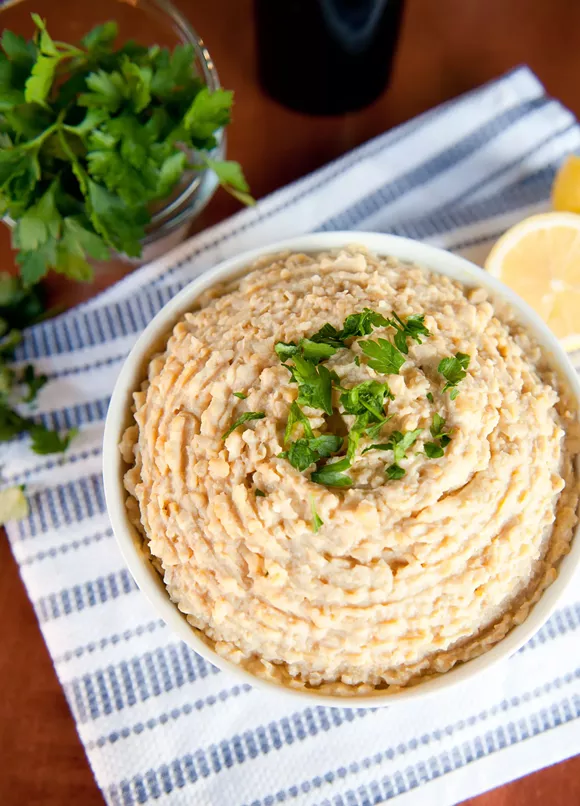 photo courtesy Taverna Opa
Hummus, Taverna Opa-style.