Ashley Belanger
Illuminated Paths at Uncle Lou's
The kickoff show for
Illuminated Paths' first label showcase tour
(June 21, Uncle Lou's) just happened over the weekend. I've been thinking a while now about the enigmatic Central Florida music label – what it's doing, what it
is
– and the launch of this maiden East Coast tour and the
feature story
it compelled recently brought it to a point. And it's pretty interesting stuff.
There are, of course, other
boutique cassette labels
out there in the indie galaxy. Illuminated Paths, however, isn't just another emptily trendy outfit. My story unpacks this in depth, but what I discovered through the course of pursuing it is that this label's method and operation are themselves
expressions of art and meaning,
every bit as much as the work of the musicians it presents. In some cases, I suspect more. Almost no other music label can claim that, at least not to this degree. Label boss
Joshua Rogers
is doing something truly unique. When it comes to
weird Orlando,
this is one of the most notable stories right now.
Ashley Belanger
Public Spreads the News at Uncle Lou's
The tour kickoff featured some special imported talent including
Public Spreads the News.
The solo project of label founder
Wes Ables
was a quilt of elements synthetic (electronics) and organic (guitar) that took otherwise clean, slinky '80s lines and blurred and recontextualized them. The performance was loose but involved a
wig,
so there's that.
Ashley Belanger
Seashells at Uncle Lou's
The surprise addition to the lineup was
New Zealand's
[correction: Seashells is based out of the U.S. now]
Seashells.
Although "ambient laptop artist" isn't a combination of words that equals live electricity, her blend of pop obfuscation and beats does make for a
more punctuated style of vaporwave.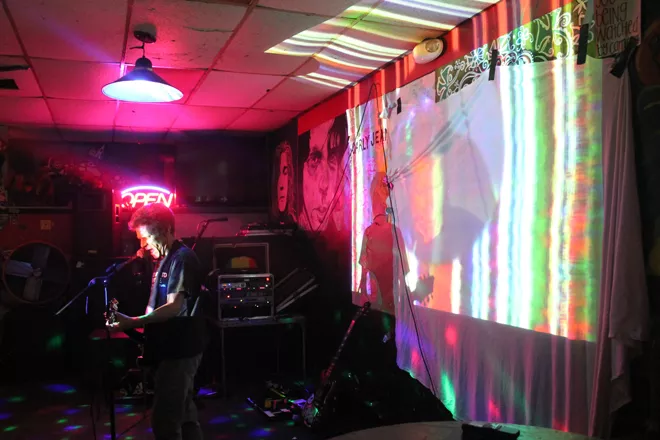 Ashley Belanger
Ray Brazen at Uncle Lou's
But of the several acts I caught, the most immediate and moving was inimitable local
Ray Brazen.
For the uninitiated, Brazen is a
proud and true eccentric
who packs more shredding chops than many of his songs reveal. On his incidentally signature Brazen electric guitar (the interesting story of which can be heard on this recent episode of the
Moonmen From Mars podcast
), the unboxable outsider artist swung wildly from punk to metal to quirky pop. If being anti-norm is the meter, he may be the
punkest one
around here.
Not enough people were at this show, that's for sure. But the good news is that the tour will be circling back home for a
finale show
, this time at
Will's Pub
(July 5) with a fresh lineup . If you missed the sendoff, here's your chance at both redemption and enlightenment. It's an event that anyone who cares about the Orlando underground should not miss.
Oh, and Uncle Lou's now has this sweet little
disco lighting upgrade
that's worth checking out at a show soon:
Ashley Belanger
Movin' on up - The new lighting array at Uncle Lou's
////////////////////////////////////////////////////////////////////////////////////////////
This Little Underground
is Orlando Weekly's music column providing perspective, live reviews and news on the city's music scene.

Follow Bao on Twitter (@baolehuu)
Email Bao: baolehuu@orlandoweekly.com