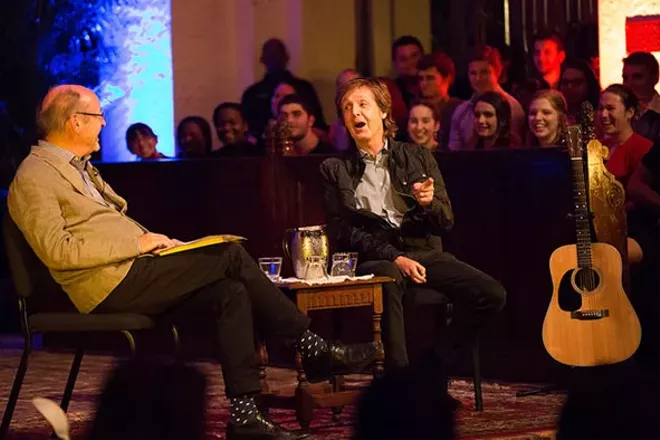 photo via Rollins.edu
Paul McCartney shares songwriting tips with Billy Collins at Rollins College, Oct. 23, 2014
In a sad yet not really surprising move, Rollins College has quietly ended its prestigious association with poet Billy Collins.
The Names
," at the request of Congress. He came to the area in 2008 at the request of Rollins' Winter Park Institute, which offered him a post as its Senior Distinguished Fellow.
Budget concerns are said to be the reason for the severance, though the Winter Park Institute will continue its programming. There's nothing posted on the Winter Park Institute or Rollins 360 news sites, but we've reached out to Rollins for comment. UPDATE: We received this statement from Rollins July 9: "The decision in question was made by the College's acting president in consultation with the board. President Cornwell has been briefed on the funding model that was supporting the program, which was not sustainable for the longer term. He appreciates the value of Rollins Winter Park Institute and Dr. Collins' relationship with the program, and he will make every effort to reach an accord that will serve the best interests of the College and its students."
It's hard to express what a loss this is to the community, but writing for
Winter Park Magazine
, editor-at-large and Rollins adjunct English professor Michael McLeod pretty much
knocked it out of the park
:
"I thought I was doing a pretty good job," says Collins. Which was why he was as surprised as everyone else when he was told a few weeks ago that his contract with Rollins would not be renewed.

The move, which also puts the future of the Institute itself on shakier ground, was a budget-cutting measure. It also represents a philosophical sea change: Rollins, like every other liberal arts institution in the country, is reexamining its approach toward education, with an eye toward providing students with marketable job skills. You can see how a poet might not fit into that pragmatic approach.

"There's a lot of pressure in favor of career-based curriculums," says Collins. "But the idea of a first-class lecture series that exposes students to so many brilliant minds — these are the kinds of people a liberal arts institution should be cultivating."

Even if you're looking at this strictly from a financial point of view, how can you calculate the value of the publicity and the intellectual sheen that comes from having a two-time poet laureate on your campus?

"All I can tell you," says former Rollins College President Rita Bornstein, "is that when I travel around the country and meet people, they'll say: 'Oh, Rollins. You have Billy Collins down there, don't you?'"

Not any more, we don't.
Here's a video of Billy Collins reading "The Names":