photo of the "Mac + Chee" sandwich courtesy of Tom + Chee

Tom + Chee
("Grilled CHEEse & TOMato soup for the kid at heart") opens in the Crossroads Plaza in Lake Buena Vista July 3; grand opening is July 10.
You've seen the food truck, now get ready for the brick-and-mortar storefront.
Kelly's Homemade Ice Cream
is open in the former Ice Cream Treats & Eats space in Audubon Park.
Itar Bistro Market,
in MetroWest's Veranda Park, will specialize in Argentine and Italian cuisine and also house a market and wine bar.
Look for Da Vi Vietnamese Cuisine to open on East Colonial Drive near Hampton Avenue. Because there just aren't enough Vietnamese restaurants in Mills 50.
Tavistock Restaurant Collection plans to open a
dinner-only, seafood-inspired lakeside resto
in Lake Nona's Laureate Park.
Total Wine
has opened in Altamonte Springs. #drank
Fans of Turkish food and/or hookahs might want to give
Café 34 Istanbul
on I-Drive a try. #swank
Morimoto Asia
will open in September at Disney Springs. This will be Iron Chef Masaharu Morimoto's first pan-Asian restaurant, featuring flavors from across the continent, as well as exhibition demos on things like how to carve Peking duck or make dim sum.
Another
Zaza New Cuban Diner
will open in the old 100 Montaditos space at Waterford Lakes.
Sushigami
conveyor belt sushi is coming to the Florida Mall (yes, they're trying the concept
again
).
The
Swirlery Wine Bar
at Michigan Street and Fern Creek Avenue is in soft opening mode. Go, swish, spit (or swallow).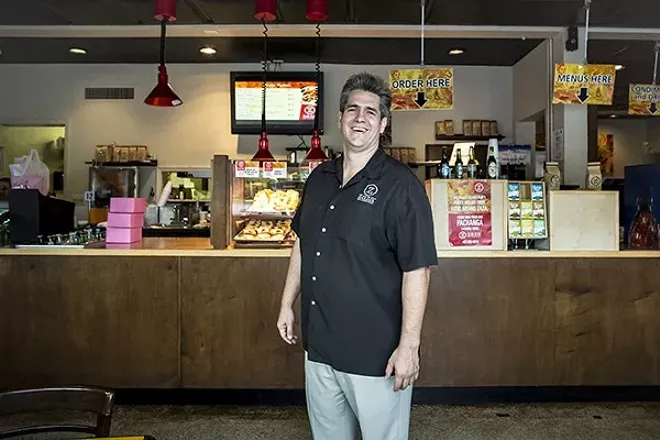 photo by Rob Bartlett
Ruben Perez, chef-owner of Zaza New Cuban Diner, was profiled in the 2014 issue of BITE magazine.