Christopher Garcia
Black Tusk at Will's Pub
It's serious business any time Georgia standouts
Black Tusk
come to town (July 2, Will's Pub), but my scope was pointed more at a
couple rising Florida acts
this time.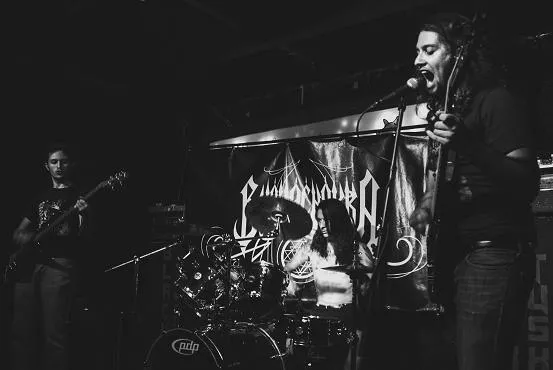 Christopher Garcia
Bhavachakra at Will's Pub
A new local band that's been making increasing ripples on the scene lately,
Bhavachakra
deals in
progressive black metal
with some unusual undercurrents. Their storms come like a full-blast hydrant but are occasionally cut with passages of intricate and atmospheric melodies. They play a demanding style and they're not the tightest right now, but at least they're
not typical.




Christopher Garcia
Meatwound at Will's Pub
Tampa's
Meatwound,
however, was absolutely searing. It's actually a perfect time to climb aboard because they're just about to release a debut album, Addio, on July 24 via
Magic Bullet Records,
and it's one bloody beast to look out for. On record, they're like
Unsane's long-haired cousin,
spiking nasty, gut-scraping noise rock with metal extremity. While others fix on the kill with a gunning attack, Meatwound's bloodlust is in the
butchery,
relishing every grisly knife stroke of the act. It's a sound that's hairy, septic and impressively savage.
Christopher Garcia
Meatwound at Will's Pub
Live – holy fucking shit – they are an
inferno,
with a roar that's hellish and gigantic. After you hear those dirty, clawing bass lines, you'll need a shower.
Meatwound is one of the
most credible and imminent threats
in heavy music to rise from around here in a while. These Florida boys have got the goods and they've got one huge shell of an album locked and loaded, so strap in.
////////////////////////////////////////////////////////////////////////////////////////////
This Little Underground
is Orlando Weekly's music column providing perspective, live reviews and news on the city's music scene.

Follow Bao on Twitter (@baolehuu)
Email Bao: baolehuu@orlandoweekly.com