Yesterday, Public Employees for Environmental Responsibility issued an insane report highlighting just how bad things have gotten when it comes to environmental regulation under Gov. Rick Scott. According to an analysis of the state Department of Environmental Protection's work to protect the environment between 2010 and 2014, anti-pollution enforcement has taken a nosedive. In 2014, the state pursued just 234 enforcement cases, compared to more than 1,500 in 2010, the year Scott was elected. As soon as he took office in 2011, things started to go south. Take a look at PEER's chart showing the total number of enforcement cases the DEP has pursued since 2007:
"Declines of over 70% of the historical average were seen in the major programs such as air, dredge and fill, domestic waste, hazardous waste, industrial waste, potable water, solid waste and tanks," PEER wrote in its report.
"The potable water program alone, which oversees the quality of drinking water, fell 88%, as did the air program.
The number of assessments has now dropped for 3 years in a row in the beaches and coastal systems, dredge and fill, industrial waste and solid waste programs."
"Under Scott, the DEP has largely ceased engaging in meaningful environmental protection," Florida PEER Director Jerry Phillips, a former DEP enforcement attorney who compiled the figures, says in PEER's summary of the report. "By virtually every measure, enforcement levels are so low that it is hard to even get a pulse."
Even if you don't care about anything else – solid waste, beaches, domestic waste – you should care deeply about the refusal to take measures necessary to ensure clean drinking water. Look at the numbers under Gov. Rick Scott. According to PEER, there were just five potable-water assessments during 2014, down from 141 in 2010.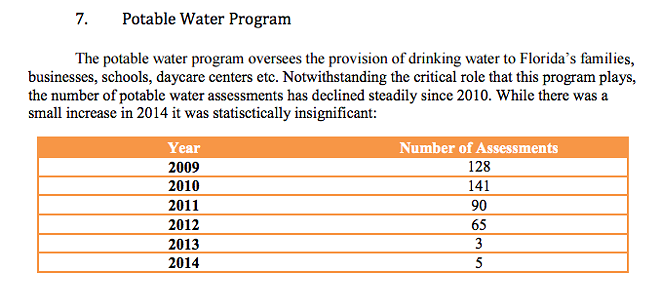 Here's the breakdown by districts:
You can read the (very dense) report from PEER and get breakdowns for each of the enforcement areas where the state is lagging
here
.
And maybe go ahead and
read this quick piece
about state Attorney General Pam Bondi's decision to join a lawsuit against the federal government's new water-regulation rules, which would give the U.S. EPA broader jurisdiction over our state waters.