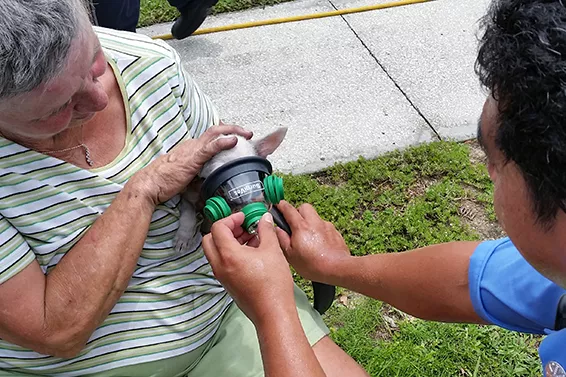 Photo Via the West Orange Times & Observer
On July 1st, firefighters entered a burning duplex in Winter Garden and rescued a dog and a bird thanks to pet-specific breathing masks.
According to the
West Orange Times & Observer
, the firefighters were able to save the bird still in its cage and a white chihuahua, who was hiding underneath a couch.
After trying to put a breathing mask on the chihuahua, Fire Chief Matt McGrew said "the dog wasn't sure about the mask at first, but once it got some good pure oxygen, it didn't mind it at all. After about five minutes of oxygen, the dog was alert and left with the owner."
The Winter Garden Fire Department just recently decided to start carrying the pet-specific oxygen masks on the trucks. Before that, the masks were typically left at the station. Certainly the dog appreciated it.