Sons of Confederate Veterans logo
Here's a story about Confederate issues that predates some of the recent controversies surrounding the flying of Confederate flags in public places around the United States. According to the News Service of Florida, in February the Department of Veterans Affairs told Gov. Rick Scott and his cabinet that it did not recommend that the state induct three Confederate soldiers into the Florida Veterans Hall of Fame.
The governor and his cabinet took that advice to heart, and they submitted five members with honorable discharges from the U.S. military (including former Florida Gov. Lawton Chiles) forward for induction – no Confederate soldiers were included in the lineup, and that infuriated the Tennessee-based
Sons of Confederate Veterans
, an organization that says it exists to preserve "the history and legacy of the heroes" who fought for the Confederacy during the Civll War. Although the state contends that only members of the U.S. armed forces are eligible for inclusion in the hall of fame, the Sons of Confederate Veterans aren't having that. According to the News Service, the organization says it will "go to court to have an actual judge determine what the law says" about the matter
The organization is also fighting
a court battle in Virginia
to force the state to make specialty license plates available for members of the organization that bear the Confederate flag. The state has been battling in court with the Sons of Confederate Veterans over the situation for the past 16 years.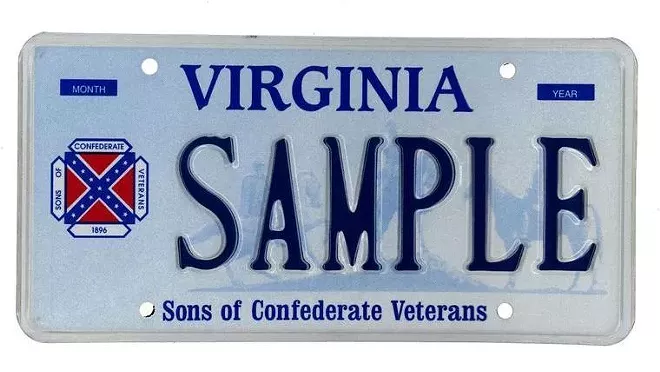 A sample of the specialty plate in Virginia