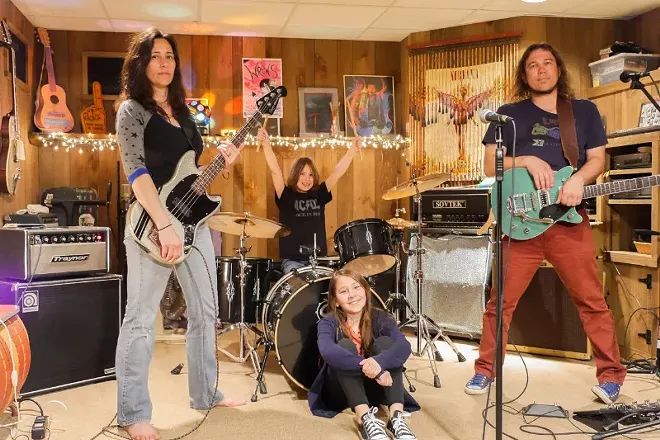 All in the family: The Rock N' Roll Hi Fives
Rock & roll has a decent history of relatives like siblings or spouses playing together. For a million obvious reasons (and probably a billion less obvious ones), however, that list slows to a drip when you talk about about bands made up of
nuclear families.
But the
Trachtenburg Family Slideshow Players
showed us in the early 2000s how sweet - if fleeting - an ideal that can be. Well, New Jersey's
Rock N' Roll Hi Fives
are here to resurrect that
pure, cross-generational joy.
And for Orlando and a small string of other select cities, they'll be doing it live on their
first tour ever.
Conceived (ha, nailed it) by family patriarch
Joe Centeno
- who packs some cred as the guitarist in '90s indie rock band
Plug Spark Sanjay
- the Rock N' Roll Hi-Fives are 13-year-old daughter
Eilee
(lead vocals), 11-year-old son
Evren
(drums), dad (lead guitar) and mom
Gloree
(bass). Together, they kick out pretty righteous
glammy power jams.
Rock & roll isn't generally family-friendly business, but the passion for it it's almost always a lovingly inherited torch. So this
free,
all-ages show
at Orlando's preeminent independent music store,
Park Ave CDs,
is the perfect opportunity to seize that beautiful but very finite window to rock out
with
your kids. What better way to show 'em how it's done than up close and live?
EVENT DETAILS

Park Ave CDs
Thursday, July 16
Show starts at
6:00 pm
RSVP here.
The Rock N' Roll Hi Fives