Last night was a reminder that not all
young shows
are the same. Vastly different pictures emerge depending on whether you measure age or scene maturity. I've seen both experienced all ages crowds and incredibly juvenile 18+ crowds. My latest outing (July 15, Will's Pub) was the boisterously awkward world of the latter, which was in turns refreshing and irritating. But the music, at least most of it, was good.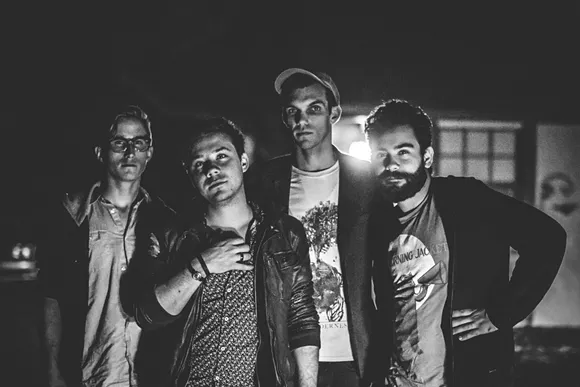 via the Wilderness Facebook profile
The Wilderness
To kick off their East Coast tour, Orlando headliner
the Wilderness
performed a solid set of their lush indie rock. Although awash in psych pastels, their sound has a hefty core of
melody and sonic substance.
It's a combination of pretty melodies and big horizon that's got mainstream potential, for what that's worth.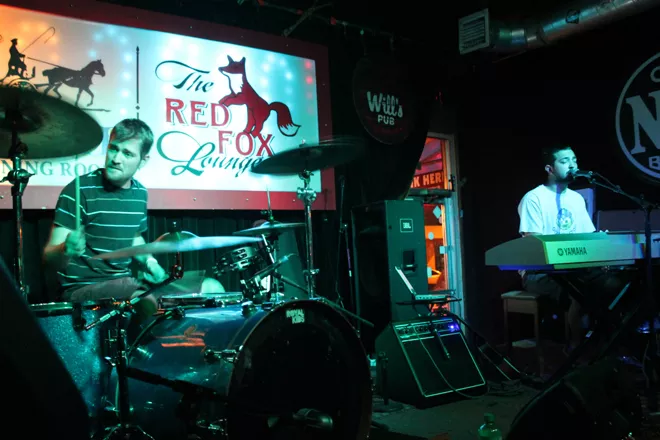 Ashley Belanger
Reverist at Will's Pub
Speaking of, local opening act
Reverist
also has good mass appeal, tons of it. Their incredibly likeable
piano-propelled indie pop
is aloft with soaring melodies and sweeping electronic sheen. It's a suprisingly complete package for a duo that has songwriting fundamentals superior to many of their more popular contemporaries. And as this performance proved, their music can lift a room and get the bodies moving.
As if these achievements weren't enough, Reverist is the brainchild and creative outlet of local
medical doctor
Omar Qazi. Most of us in the creative community have other day jobs and all, but damn. Anyone else feeling like a bit of a
bum
right about now?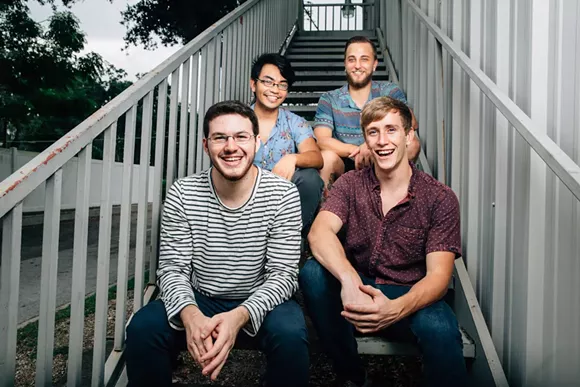 Stephen Diaz
Pathos, Pathos
Opener
Pathos, Pathos
is a local indie rock act that's been coming up the scene over the past year or so. Situated somewhere between
Ben Gibbard's
sensitivity and
Vampire Weekend's
effervescence, they're unflinchingly twee. What saves them from testing the nerves, however, is their pure charm and even
purer sense of melody.
If their recordings are a little too dainty for you, try 'em on live where they're notably more persuasive.
Ashley Belanger
Young Mothers at Will's Pub
The night's first act was Daytona Beach's
Young Mothers,
a side project of three-quarters of
Odessos.
Man, are these guys passionate. But they may have more heart and technical ambition than they can handle right now with
undercooked math-pop
that's swarming with a whole lotta doodles but little editing. That zeal of theirs won't be an asset until they work some of the extraneous stuff out of their system.
////////////////////////////////////////////////////////////////////////////////////////////
This Little Underground
is Orlando Weekly's music column providing perspective, live reviews and news on the city's music scene.

Follow Bao on Twitter (@baolehuu)
Email Bao: [email protected]