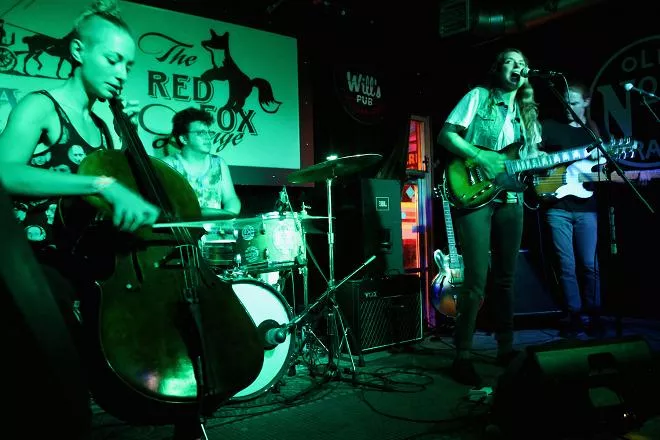 Ashley Belanger
Good Graeff at Will's Pub
Ashley Belanger
Good Graeff at Will's Pub
Sarasota twin-fronted band
Good Graeff
just celebrated the fresh drop of their
new EP
Good Job Go
with a typically lively performance of their
fresh-faced, folk-edged indie pop
at their Orlando release event (July 16, Will's Pub). Despite their ready combination of talent, marketability and tireless road-dogging, they haven't exactly broken out yet. But hopefully this sparkling record will hasten that.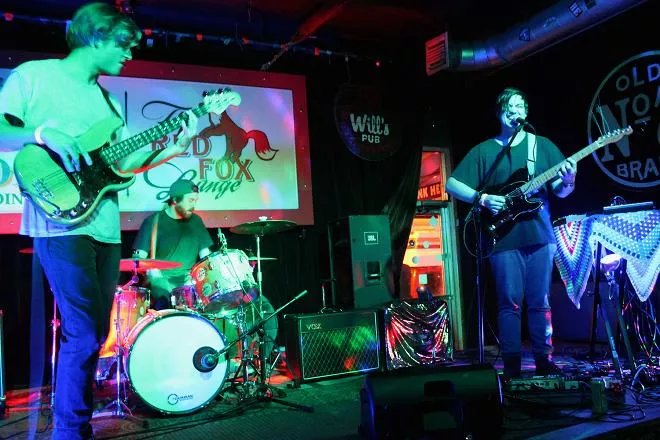 Ashley Belanger
Someday River at Will's Pub
Local support was
Someday River,
the band formerly known as
Bellows.
The long journey from Bellows to Someday River has been a tale of honing what began as a stylistically indiscriminate sprawl. Over time, they've pared things down considerably to arrive at their current sound of airy pop rock. With one foot in the indie world with touches like deep, swimming reverb and the other in soft-core, hippie-lite grooves,
contradiction
still persists in their recipe. But some pleasant melodies are squeezed between those strange bedfellows.
Ashley Belanger
Coeds at Will's Pub
Straight up mugging the night, however, was Savannah band
Coeds.
While typical first acts warm things up, these guys and girl made their Orlando debut by lighting the wick and shooting off like a Roman candle. Braiding the wild, early roots of rock & roll with doo-wop traces and a hearty garage scuff, they have a
turbocharged vintage
aesthetic like the
Detroit Cobras,
only with more kick.
Ashley Belanger
Coeds at Will's Pub
They're a rubber-burning unit to be sure, but the hard, raw voice of frontwoman Anna Chandler is an
absolute weapon.
Although she's already good on the male-female trades with co-front Phillip Reynolds Price (ex-
An Albatross
), her feral soul claws like a tiger when given full rein. That doesn't happen nearly enough, but when it does, it'll knock you down.
Most fresh, unfamiliar openers get little attention unless it's something especially pulse-perking. During the course of Coeds' blazing set, however, the room went from a sprinkle of bodies to a
full, demonstrative crowd.
Yes, Coeds, look 'em up already.
Ashley Belanger
Plastic Pinks at St. Matthew's Tavern
Another band to keep an eagle eye on is Miami's
Plastic Pinks,
who ripped some super hot late-night action right up the street (St. Matthew's Tavern). An onslaught by committee, this full-gang motion machine is a juggernaut of
garage-punk uproar
and
pure physical joy.
The band rages with both attack and celebration while singer June Summer unleashes the kind of physical charisma usually reserved for party metal. And it torched the spot.
Ashley Belanger
Plastic Pinks at St. Matthew's Tavern
////////////////////////////////////////////////////////////////////////////////////////////
This Little Underground
is Orlando Weekly's music column providing perspective, live reviews and news on the city's music scene.

Follow Bao on Twitter (@baolehuu)
Email Bao: baolehuu@orlandoweekly.com