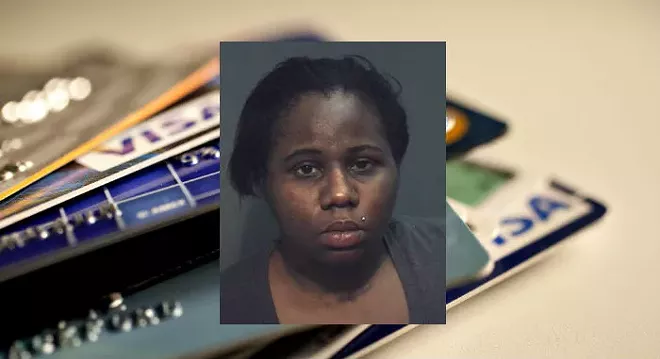 Photos via Orlando Police Department
Chrystie Hall
Chrystie Hall, an employee who worked at Preferred Guest Resorts in Winter Park for 12 years, was arrested on allegations that she sold bags of reservation documents to a pair of local identity thieves.
Police picked up Hall on July 14, after Jacob Nesson, an 85-year-old resident of Indiantown, Florida, informed OPD that his credit card was fraudulently charged $4,000 from a Thrifty Car Rental at Orlando International Airport. The car was rented under the name Chrystie Hall.
Police then activated the car's OnStar, which placed the vehicle in downtown Orlando at the corner of Robinson and Magnolia. Once they located the car, police found and arrested two suspects; 27-year-old Xavier Stephens and 38-year-old Bridgett Bennifield– both were in possession of numerous credit card documents.
After being read their Miranda rights, Stephens and Bennifield told police they received the documents from Hall. "They told investigators Hall steals reservation documents that are supposed to be shredded and sells them by the bag to Stephens and Bennifield. Each bag contains between 400 and 500 documents and Stephens and Bennifield said they purchase the bags for $100 each. Then Stephens and Bennifield resell the credit card documents for $50 per page," said OPD.
Police are claiming the documents had a resale value of $92,750.00 and account for 1,855 victims, but there could be more.
Xavier Stephens (L) Bridgett Bennifield (R)
"The documents appeared to be for reservations for travel and included arrival dates, lengths of stay, hotel information, names of guests, DOB's of guests, and full credit card numbers with the expiration date and security numbers. Stephens was in possession of 1,787 reservation documents and Bennifield was in possession of 68 reservation documents," said OPD.
All three suspects have criminal histories and are currently being held at Orange County Jail on charges that include trafficking in counterfeit credit cards, grand theft motor vehicle and unlawful credit card lists.
"Orlando Police Department takes identity theft seriously, and we will vigorously pursue anyone who goes after our residents or tourists," said Sgt. Rhonda Huckleberry, of the investigative unit. "This is a huge mess. A lot of our victims are elderly and from out of state."
Since the arrests, Preferred Guest Resorts has been cooperating with OPD.
"Preferred Guest Resorts is required to notify their customers of the breech. OPD investigators are supplying the company with the 1,855 victims whose paperwork was in the suspect' possession at the time of their arrest. However, since the suspects have been doing this since at least December, 2014, there is no telling how many additional victims there may be. Preferred Guest Resorts employs approximately 400 people who take reservations and process credit cards," said the Orlando Police Department.
If you have done business with this company and feel you may be a victim of identity theft Contact your bank or financial institution with following information OPD Case# 2015-288907. Also contact a credit bureau to see if any other accounts have been opened in your name.


You can read the full arrest report here:
See related PDF