photo via Maki's Place on Instagram
Maki's Place
, a "temakeria" specializing in temaki rolls (your local sushi joint probably calls them "hand rolls"), has opened on South Park Avenue in Winter Park
Yamasan Japanese Restaurant will open in the space next to Segafredo in Mills Park.
Rabbitfoot Records Coffee Lounge
celebrates the opening of their new, larger space on Second Street in Sanford tomorrow at 5 p.m. (Saturday, July 25).
Both
Braccia Pizzeria & Ristorante
and
Daya
, a new vegan restaurant, have opened on Morse Boulevard in Winter Park. (Daya is still in soft-open phase but creating excitement among local vegans already.)
A new
Gator's Dockside
has opened in SoDo.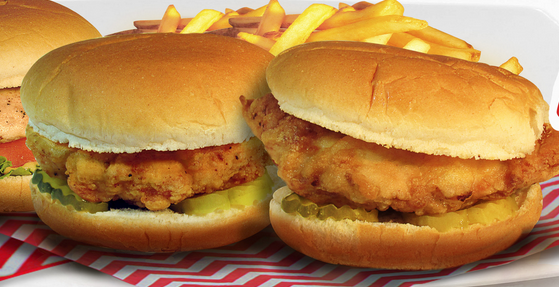 photo via Brewster's Chicken
Brewster's Chicken
will celebrate its grand opening July 25 at the Fashion Square Mall. This image from their site sure makes it look like they're taking a run at Chick-fil-A – note the pickles – maybe they'll be a hate-free alternative sandwich? One can only hope.
Zora Grille
in now serving up Persian fare in Altamonte Springs – check their Facebook page for lunch specials like "lamb limousine" and "firebird thigh."
Mach schnell
to the Aug. 9 Food Truck Bazaar, where German TV channel RTL will film the opening date of the
No. 1 Currywurst Truck of Orlando
. Currywurst is a popular German street food, steamed and fried pork sausage doused in curry ketchup. (It's better than it sounds.)
Del Frisco's Double Eagle Steakhouse
will open Aug. 15 on I-Drive. Reservations are currently being taken at
delfriscos.com
; start saving your pennies because that place is NOT cheap.
Houlihan's in the Colonial Marketplace will be replaced by a
Miller's Ale House
. Will you notice?
Itta Bena
, an upscale Southern restaurant, has opened in Pointe Orlando, while
Lafayette's
, a live music venue and restaurant à la B.B. King's, opens there tonight, July 24.
Look for DeBary's
Central 28 Beer Company
to have its soft opening July 30.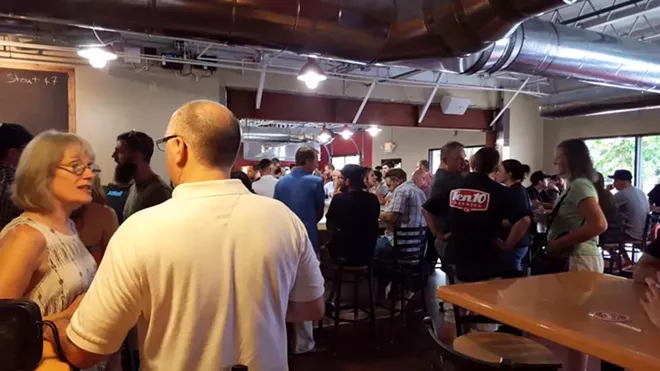 photo via Ten 10 Brewing on Facebook
Scenes from a grand opening party.
Ten 10 Brewing Company
has finally opened on Virginia Drive (
remember when that space was going to be an Orange Blossom Pilsner taproom?
). The raucous opening-night party had traffic snarled up and down the drive, but it might be worth it.
Kelly's Homemade Ice Cream
, the brick-and-mortar version of the food truck, has opened in Audubon Park, in the longtime home of Rainbo Sno-Cones that was temporarily displaced by Ice Cream Treats & Eats. Kelly's serves ice cream flights so we are pretttty, pretttty excited about this.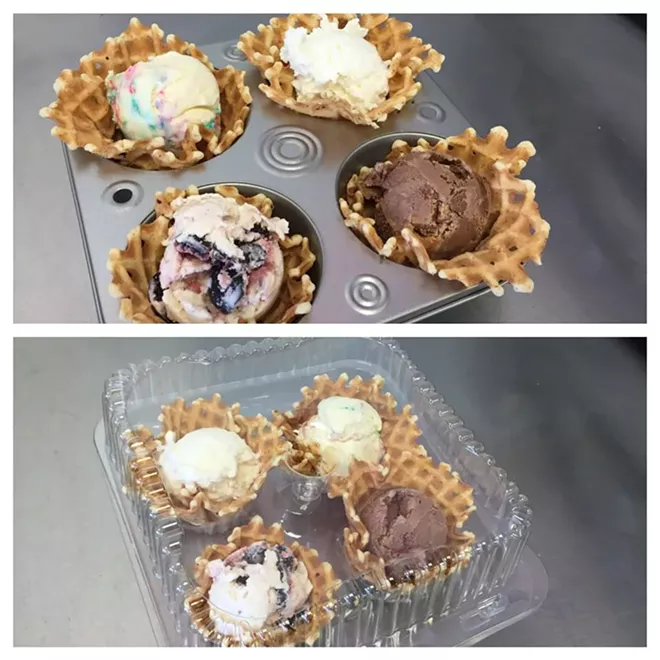 photo via Kelly's Homemade Ice Cream on Facebook
Ice cream flights in Audubon Park! Life is amazing