A video captured using a cellphone shows deputies arresting Deidra Reid and her friend Reggie Lane Jr., at The Retreat at Orlando, an apartment complex near the University of Central Florida, for allegedly trespassing and resisting an officer,
WKMG Local 6
reports. The viral video has already led to a hashtag on Twitter, #JusticeforDeidra.
A witness told
Central Florida Future
the conflict began when Reid yelled at an officer's son because the boy refused to let her into the complex's computer lab. Reid was trying to get inside to meet a friend, who is a resident of the complex.
The witness heard Reid complain about the boy, and the boy went to get his father, an off-duty officer. The officer asked her if she had yelled at his son, and they argued after Reid told him he needed to teach his son some manners.
The witness then said, "The off-duty officer allegedly started asking Reid if she lived at the complex and to show him her ID. Reid responded saying she did not have her ID with her and she was a guest visiting her friend. After a heated exchange, the officer said Reid was trespassing and reportedly stormed off repeating, "You're going to jail tonight."
At some point when Reid went to get her ID from her car, the officer called for backup, and several police cars came to the complex, according to WKMG Local 6. Reid was arrested after officers alleged she was "combative," forcing her to the ground as other deputies arrested Lane.
"I thought I was going to die," Lane told the TV station. "When he pulled out that shotgun, I thought my life was over."
After the arrest, Reid was taken to the hospital for shoulder pain. A mugshot appears to show Reid in some kind of arm sling.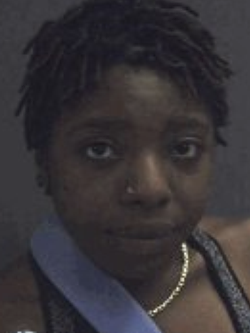 Photo via Central Florida Future
In a statement, the Orange County Sheriff's Office said, "At this time we are not aware of a use of force complaint against our deputies regarding this incident. As is customary in our agency, this arrest and use of defensive tactics/force will be reviewed by the deputies supervisory chain."
The incident comes in the wake of a recent complaint of excessive force by officials in the area. The Orlando Police Department is currently investigating if officers were excessive during the arrest of Noel Carter, who was kicked, shocked with a stun gun, hit with a metal baton and pepper-sprayed.
A previous headline implied that the two students who were arrested attended UCF. The students plan to attend UCF in the fall. We have corrected the headline and regret the error.