Jen Cray
Electric Citizen at Backbooth
In the indie ranks where music labels operate closer to the heart and often specialize,
label showcases
are telling and therefore high-value experiences for good labels. The most recent jackpot was the touring one for West Coast imprint
Riding Easy Records
(July 24, Backbooth). In one
knockout night,
this lineup brought a procession of notable bands to Florida for the
first time
and established the label as a name to be watched in a single stab of an impressive trident.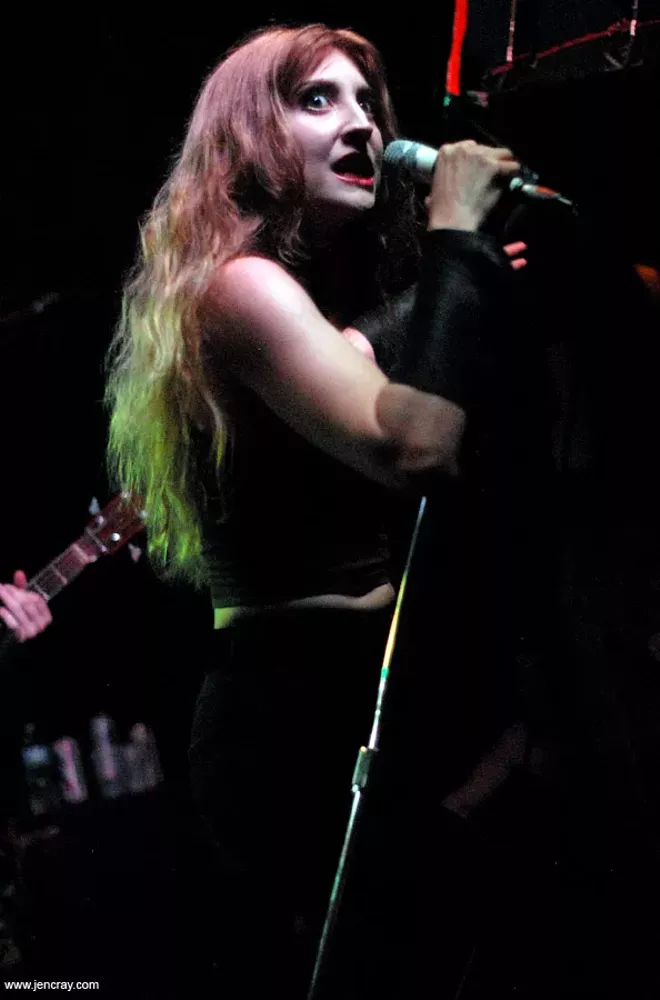 Jen Cray
Electric Citizen at Backbooth
Riding Easy Records' former name was
Easy Rider Records,
appropriate because that's more or less the style era where this label likes its rock. Take the retro-heavy roll of Cincinnati headliner
Electric Citizen,
for example. Their
proto-metal sound
already packs a big slab of dark theater, but frontwoman Laura Dolan elevates it to straight-up black magic. I mean, c'mon,
leather fringe cuffs?
If the music wasn't so good, this would've been hilarious. Instead, they rocked with real mood and presence.
Jen Cray
Electric Citizen at Backbooth
Oakland throwback band
Mondo Drag
likewise conjure a vintage time warp with acid rock that trips out in enough
swirling organs
to be ridiculous if it wasn't rendered with such authenticity and genuine weight. This ain't no hippie-lite doodling. This is some deep diving. I could feel my lids draw and my hair lengthen with each slithering indigo groove. Look, I'm already talking sound in terms of
color.


Jen Cray
Mondo Drag at Backbooth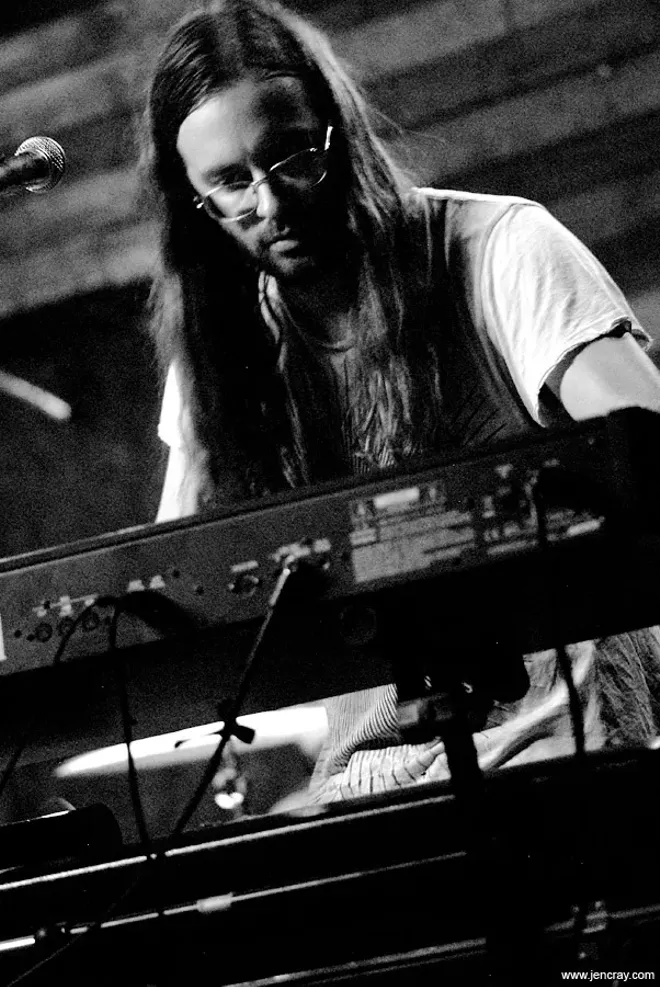 Jen Cray
Mondo Drag at Backbooth
The most electrifying of the three labelmates was Central California's
Slow Season.
Although their revivalism is just as long-hair and big-flare as Mondo Drag, their rock is much more hard-charging. While Mondo Drag and Electric Citizen dig atmospheric canyons, Slow Season kicks it out with more diesel, heroics and fuzz like a
Southern-fried Zeppelin.
Live, these guys are titanic, with cliffs of riffs and a huge sense of climax. And, goddamn, that drummer is a pit bull. Download their earlier eponymous album free on their
website
(link is at the top of the home page).
Jen Cray
Slow Season at Backbooth
Jen Cray
Slow Season at Backbooth
If an aspiring indie label is looking to make a name, a
showcase tour
is a quick and concentrated way of doing that if you've got the goods. Riding Easy Records did that here. Few people at this only Florida date were familiar with all the bands, and even fewer with the label. But by the end of the night, probably many were converted. Once you've been down the
heavy, narcotic rabbit hole
with a cavalcade like this, you don't forget that.
////////////////////////////////////////////////////////////////////////////////////////////
This Little Underground
is Orlando Weekly's music column providing perspective, live reviews and news on the city's music scene.

Follow Bao on Twitter (@baolehuu)
Email Bao: baolehuu@orlandoweekly.com